The SMS marketing consumer sentiment report: how your brand can win more customers via text
"You up?"
Everyone knows you're not supposed to send that text.
But what texts are you supposed to send?
And when? How many?
Text messaging is a genre. And the conventions of any genre need to be learned, even when you're writing to loved ones you've known for years.

For messages coming from ecommerce brands, the bar is even higher.
You have to:
Entice your people to opt in (no small feat).
Figure out the right cadence and time of day to contact them.
Establish trust and connection through what you send them.
Motivate them to purchase.
Keep them happy and engaged.
While SMS marketing may be a relatively new phenomenon, brands that understand it—and how it works best—use it to great strategic advantage.
But as more and more brands add SMS marketing as a new channel to their marketing mix, and as consumers get more comfortable receiving text messages from their favorite brands, SMS marketing is becoming like any other marketing channel. That is, it changes—a lot.
What worked last quarter might not for this one—and that's because consumer expectations change, and often, especially with newer marketing channels.
That's why we went to the consumers themselves—1,975 of them in the US and Canada, to be exact—to understand how they perceive their relationship with SMS marketing.
We set out with 3 main goals:
To understand what types of texts consumers want to get and how that varies by what kind of consumer they are
To determine which brands use SMS and text messaging particularly effectively, and what we can learn from brands that use it less effectively
To differentiate between SMS messages and emails in terms of how likely they are to drive a consumer to purchase
The consumers we surveyed were all:
18 or older
Living in the US or Canada
Engaging with brands via SMS
Read on for all the insights we collected about SMS marketing, and how they relate to your brand and your text message marketing program. You'll learn what you can do to alter your strategy, even slightly, to improve engagement, loyalty—and of course, sales.
Table of contents
SMS marketing basics: the why, the when, and the what
There are some serious benefits to using SMS, if you haven't gotten started already. In addition to creating better customer experiences through the ability to have two-way conversations, it's simply a faster way to communicate.
Speed in communication is especially helpful for verticals with higher-value items—if a prospect has a question, they can ask via text and you can respond quickly, giving them the information they need to feel comfortable making the purchase.
In the image below, you can see a personalized text message to a customer based on a previous purchase.
Unlike email, SMS engagement goes beyond open rates. Promotional texts have an average click-through rate of 36%—8x that of email (4.5%).
So, let's dig into the nitty-gritty.
How often can you text your customers?
Nearly all survey respondents (96%) reported willingness to receive a text at least once per week. (This is up from 31% in our survey conducted in 2021.)
In general, most shoppers say they prefer to hear from a brand once a week (40%), or a few times a week (30%).
More than twice as many shoppers would rather hear from you via text message than over social media.
This means you've got a direct line to your audience—without having to put as much time and effort into conceptualizing social posts.
What do they want to hear about?
Primarily, SMS subscribers want to receive confirmations, with more than half selecting the following types of messages as preferable:
Delivery confirmation
Shipment confirmation
Order confirmation
Next came coupons and promotional codes, with 30-50% of respondents identifying those types of messages as appropriate and welcome.

The takeaway?
Keep it short, and centered on what they've already invested in.
Once they've bought something from you, consumers want reassurance and up-to-date information about when they'll get your product. They want to know that the actions they've taken matter, and that everything is going smoothly.
Smaller percentages of folks are up for hearing about back-in-stock notifications, loyalty programs, and other benefits, too.
What messages are the most welcome?
Customers reported actually enjoying text messages that are personalized.
For example:
Discounts personalized according to a consumer's past purchases
Offers related to their interests
Messages about products or services they've indicated interest in
This means you've got to prioritize personalization. Marketing automation and ecommerce customer data platform (CDP) tools like Klaviyo keep your customer data up to date, making it easier for you to segment users based on their recent purchases and other activity.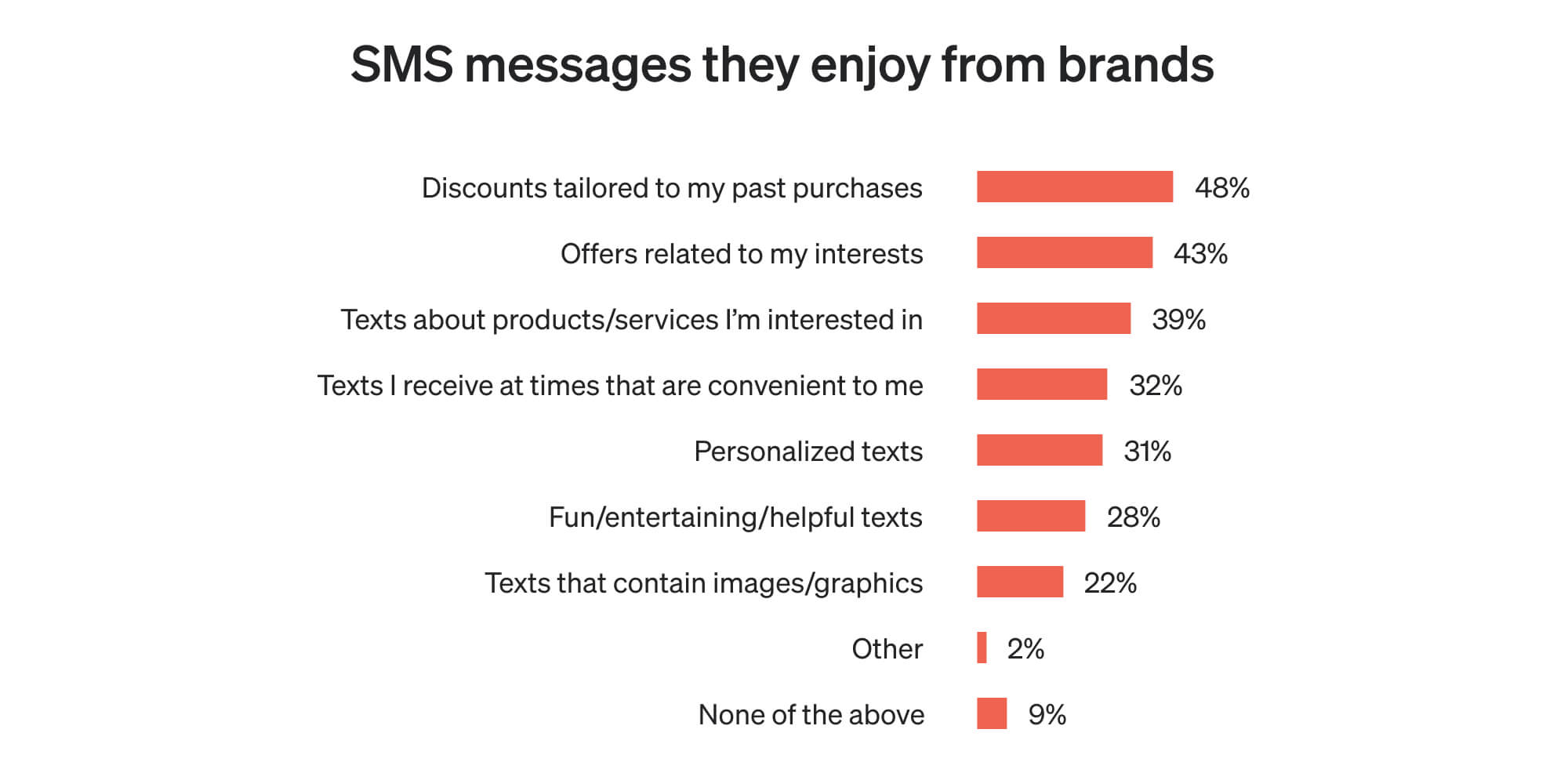 With data like this—at your fingertips with Klaviyo's 260+ integrations—you can send a particular user a personalized message thanking them for their recent review, for example, or offering them a discount on a different wool sweater, similar to the one they just purchased.

Messages that are personalized can feel like they're coming from someone who knows you, or who is having a conversation with you, which can strengthen rapport, trust, and loyalty.
What types of messages are folks averse to hearing about via SMS?
In general, respondents are less interested in receiving "interesting" or "helpful" articles via text (49%). For that kind of content, you're better off sticking to email. (Keep reading to learn what messages work better over email.)
Many (44%) also are not interested in receiving abandoned cart reminders via SMS. (We'll get to the best way to give them that abandoned-cart nudge later.)
Event SMS announcements are less welcome for a high percentage of people (37%). Save these for your social handles.
The team at Klaviyo believes consumers are less willing to receive messages about the above because they simply aren't urgent.
Remember, a text message grabs your consumer's attention immediately. It goes directly to their phone—their main line of communication with friends and family. Sending a text can be distracting, and consumers prefer those messages from brands be worth that distraction.
How to make SMS subscribers feel seen and connected to your brand
Given that customers are only willing to subscribe to a handful of brands via SMS (our average respondent subscribes to 2-3), your real estate on their phone screen is valuable.
Our study found that SMS subscribers want to feel like they belong to an exclusive group.
Some ways to make this happen are:
Inviting them to a VIP experience
Offering a loyalty program and benefits
Sending them birthday deals
Sending them coupons and discounts
Sending them special announcements
Importantly: About 20% of current SMS subscribers say the texts they get don't actually make them feel like they're part of a special group. So, this area is ripe for improvement.
What can you do today to create that special community feeling?
Some tips on using your loyalty program to do it:
Create a best-in-class customer loyalty program.
Make sure the benefits are crystal clear to the reader.
Create a dedicated rewards page that is easy to find (and log in to).
Offer enough points on the first purchase that it's worth it to sign up.
Why consumers opt in to SMS marketing––and why they opt out
It may not be tough to get your audience to subscribe to your emails, but the results are in: consumers are pickier about who they give their phone number to.
That's right—95% of consumers subscribe to less than 7 brands via SMS—considerably fewer brands than most people give their email to.
And it gets even more competitive: about half will only subscribe to 2-3 brands.
So, what makes them opt in to begin with?
Reasons consumers opt in to text message marketing
More than half—51%—of consumers we surveyed opt in to text message marketing if they are about to make a purchase. Slightly more—55%—opt in once they become a frequent shopper, while 51% opt in from a place of love and appreciation for the brand.
How can you get them to opt in if they haven't already decided to make that first purchase?
50% of shoppers are more likely to subscribe after making a purchase, but a discount can get that needle to move.

According to our survey, nearly 70% of shoppers are willing to subscribe to SMS for a discount.
One respondent wrote: "If it has nothing to do with purchase, shipping, or delivery confirmation, then 99.9% of the time the only other reason I would subscribe prior to purchasing would be for a discount of at least 10-15%."
Others indicated that offers as small as free delivery, insider discounts, and options to continue the subscription would motivate them to subscribe.
Reasons consumers opt out of text message marketing
Of course, once you've gotten someone on your SMS list, you now have to figure out how to keep them there.
This is all about striking a balance between engagement and respect. You don't want to spam or overload them, and you want to make sure they're feeling understood by you.
Here are some basic rules for retaining your SMS marketing list:
Don't send too many messages.
Don't send the same message too many times.
Be careful to differentiate between what you send via email and SMS—39% of survey respondents said receiving the same message via email and text will make them unsubscribe.
Klaviyo recommends texting a recipient 2-6x a month and sticking to a regular schedule. You'll also want to create a customer journey (which will be different for a welcome series vs. an abandoned cart, for example).
Finally, you'll want to send your text messages between 9 a.m. and 8 p.m. in the recipient's local time zone.
When asked about brands that sent text messages that came across as "spammy" or not worth the read, respondents cited complaints such as messages that were:
Too frequent
Too many, and about about the same thing
About sales that were not worth it
Next, let's take a look at some brands that do SMS marketing particularly well.
Subscribing is one thing, but do consumers buy from text messages? Hint: they sure do
Of course, once you begin growing your list, the ultimate goal is to convert subscribers to buyers, and buyers into more frequent buyers.
More good news: 73% of consumers have made a purchase based on receiving a text message from a brand. Over half of them have done this 2-3x.
That's not all: 24% were motivated by a text message to make a purchase they were not already planning on, while 60% bought earlier than they planned to.
All because of a text message. Pretty powerful, right?

The No. 1 type of SMS marketing that is likely to convert a subscriber into a buyer is a coupon or promotional code.

However, that isn't the only kind of message that has the potential to convert. Others include:
Birthday deals
Loyalty program offers and benefits
Confirmations for purchases already made
Time-sensitive sale announcements
But in general, do consumers sign up for SMS prior to a purchase, or after? After all, with delivery and shipping confirmation SMS messages so beloved, why sign up before? Well, discounts are a driving factor.
Younger consumers prefer SMS over email, but all age groups are open to texting
Who you're texting matters. A lot.

Generation Z (those born between 1997-2012) generally prefers SMS marketing, at least in comparison to other age groups.
Who is Gen Z? Well, they're worldly even if they haven't traveled, and they're often "digital natives"—meaning they learned how to get around the internet as they were learning how to be alive. Most importantly, they're up for communicating via text. They even prefer it.
After all, while we were all staying home and on our screens during the height of the pandemic, they were, too. And those years, for them, were formative.

So, Gen Z exhibits the highest instance of being able to communicate with brands via SMS. In fact, if they are able to ask a question and get a response via SMS, this increases their likelihood to subscribe.
The flip side is that, in 2021, our survey found them to have the highest number of unread messages on their phones—an average of nearly 100.
In terms of texting with a brand, millennials are a bit different—they like to know whether or not there is a person on the other end of the messages, and they need this to be clear.
Baby boomers, meanwhile, harbor some extreme perspectives on SMS. They're the generation most likely to be OK with brands texting them several times a week. But more baby boomers than any other generation are also completely closed off to receiving text messages from brands.
In either case, boomers are reading their text messages—as of 2021, they reported an average of only 6 unread messages on their phones.
The good news is if you are collecting birthdays via a form in order to send out birthday deals, you can also segment according to generation, as long as you also collect the year.
SMS + email: why you need both, not either/or
Our study set out to determine the best ways to use SMS in comparison to email—not instead of, but in addition to. The debate between email and SMS creates a false binary: In reality, each channel serves a distinct purpose.
Understanding consumer expectations around emails vs. texts can help you finetune the different roles email and SMS play in your marketing mix.
Email marketing: keep using it for these types of messages
If it's not broken, don't spend a bunch of money and energy trying to fix it.
More than 60% of survey respondents prefer email for hearing about:
Loyalty program offers and benefits
Upcoming promotional sales and discount announcements
New product announcements
Order confirmations once a purchase is made
Special announcements
Each of these messages listed above may feel important to your brand—and of course, you're excited to share them with your audience. But they don't necessarily carry the sense of urgency that would warrant the notification and the push to get read in the moment on a consumer's phone.
Some of these types of messages require additional thinking on the consumer's part. Or maybe the time of day you sent the message isn't when they have a moment to browse a new product or sale, so they want to keep the message handy and go back to it when they do have more time.
Emails work better for this, according to consumers themselves.
Here are some helpful questions to think through when deciding if a message should be sent via email or SMS:
Is this interaction initiated by us (the brand) or the customer? If it's initiated by you, consider sending it via email.
How urgent is it? If it's not urgent, and might require some time for the customer to read or think through, email may be the best channel.
In general, survey respondents didn't express any reticence at hearing from brands via email, as long as the messages per channel are distinct from each other. In other words, don't send the same message via both email and SMS.
And remember: Email isn't a perfect medium. Our survey in 2021 found that the average American had over 1.5K unread emails in their personal inbox. Millennials and Gen Z led the pack with an average of over 2K unread.
When is email more likely to drive a purchase?
According to our survey, consumers would be more likely to purchase if they received these types of messages via email instead of SMS:
Articles of interest
Abandoned cart reminders
Special announcements
New product announcements
Invitations to VIP experiences
Back-in-stock notifications
In other words, SMS and email should be used jointly. Some consumers prefer email over SMS, and vice versa. Others, still, will likely respond best to a combination of both channels.
And that's OK! You just need to A/B test, easily allow consumers to update their brand communication preferences, and make sure you respect the desires of different types of consumers as you build out your marketing programs.
Here, see the entire list of messages consumers prefer to receive via email versus SMS.
Brands that use SMS marketing effectively
Respondents identified 5 brands whose SMS marketing they approved of:
Amazon
Fashion Nova
Walmart
Nike
SHEIN
When asked what about the text messages they liked, the main reason is that the brand only sends messages when necessary.
Respondents appreciate messages that are:
To the point
Well-timed
Informative about discounts and sales
But what if you aren't one of the leading retailers in the world? Can you still do SMS marketing incredibly well? Absolutely. Let's look at a few examples.
Take a look at Ivy City Co's MMS marketing. This text message is to the point and well-timed. The new inventory has just become available. This one also includes a direct link for shopping.
Ivy City Co's MMS image is also thoughtful. The model exudes happiness, and she looks to be in a beautiful—possibly non-American—city, making the image feel out of the ordinary.
The product itself—the dress—takes up a lot of the image, which is helpful because you can see the important details: the fabric, the cut, the length, and how it fits the model.
VEGAMOUR's MMS marketing gets right to the point as well, notifying customers about a sale, telling them how much money they can save, and communicating the products' benefits, plus the direct link for shopping—pretty impressive for such a short character limit.
VEGAMOUR really makes the most of the image and the space, as well, featuring the product, off-set to the right so that your eye is drawn there. The model's hair provides the perfect background for the information they want to deliver, and listed in order of importance—exactly how much the customer can save.
Final thoughts
As of our 2021 survey, over a third of Americans reported that their phone is the most important thing they own—and that texting is their primary communication channel, across all generations.
For your brand, SMS marketing makes sense. Most folks in the US and Canada are engaging with text message marketing from brands—though they are pickier than ever about who those messages come from and what they say.
You have to use the real estate you earn on your consumer's phone as strategically as possible. You need it to convey information important to them. You need it to be urgent. You need it to be a conversation, where possible.
This is where a holistic SMS marketing strategy, including marketing, transactional SMS and two-way SMS messages, comes into play.
No matter how you break it down, SMS marketing is a fast-growing channel consumers like to engage with when it is done right. Your brand can do it right, and make text message marketing a powerful 2023 channel to grow your list, your lifetime loyalty, and your revenue. Klaviyo SMS can get you started.
Annie McGreevy
Senior editorial writer
Annie McGreevy is a senior editorial writer at Klaviyo, where she researches, interviews and writes about how businesses of all sizes can better leverage their owned marketing channels to succeed on their own terms in the current economic environment. Previously, she was a ghostwriter for thought leaders in the payments industry and taught writing to undergraduate students for more than a decade at The Ohio State University. Also a creative writer, her fiction and essays have appeared in Electric Literature, The Los Angeles Review of Books, Nouvella Books, and elsewhere. She lives in Ohio and loves the cold weather, hiking, and a good Zoom background.