How Mixtiles Unites Email and SMS to Drive Almost 40% of All Revenue
Based in Israel and serving customers around the world, Mixtiles makes decorating a home simple. With their easy-to-hang art and picture frames, Mixtiles helps people create a space they love.
Another reason customers love Mixtiles? Their conversational messaging style.
Mixtiles' goal is to build relationships, so it makes sense that they've tapped into one of the most personal marketing channels: text messaging.
Find out how Mixtiles uses SMS to complement their email messaging, collectively driving nearly 40% of all revenue.
Why combine email and SMS on one platform?
Right now, Guy is a one-person team, responsible for all Mixtiles' emails and texts. His plate's full—and creating a consistent customer experience is just one more task on an already long to-do list.
Mixtiles team chose Klaviyo from the very start of their business for both email and text message marketing.
By uniting their email and SMS communications on one platform, it helps the Mixtiles team deliver a high-quality marketing message without expending a lot of time or resources.
Now that Mixtiles' cross-channel messages are in sync, they don't have to worry about miscommunications.
Email and SMS work together to create a cohesive experience
At critical stages in the customer journey, Mixtiles doesn't have to pick a single method of communication. For example, when someone first visits their website, Mixtiles asks for both email and phone numbers to enable cross-channel retargeting.
If someone opts into email marketing but doesn't share their phone number, Mixtiles continues building their relationship with the customer through email. Then, when the customer visits their website, they're reminded that they can also get exclusive offers via text with a targeted popup.
Using Klaviyo to create an automated journey
Once someone opts into Mixtiles' text marketing, they enter a personalized flow that includes both email and text messages. Mixtiles has several unique paths for their subscribers: a welcome series, abandoned cart, and sunset flow.
Since these email campaign series live together in Klaviyo, Mixtiles can streamline how they're created. One journey, two paths—all based on subscribers' channel preference.
These automated campaigns make up 40% of all of Mixtiles email and SMS revenue, which is especially impactful since Guy doesn't need to do much to maintain them—they're always on.
Mixtiles' abandoned cart series is one example of an automated campaign that combines email and SMS, driving hundreds of thousands in revenue every month: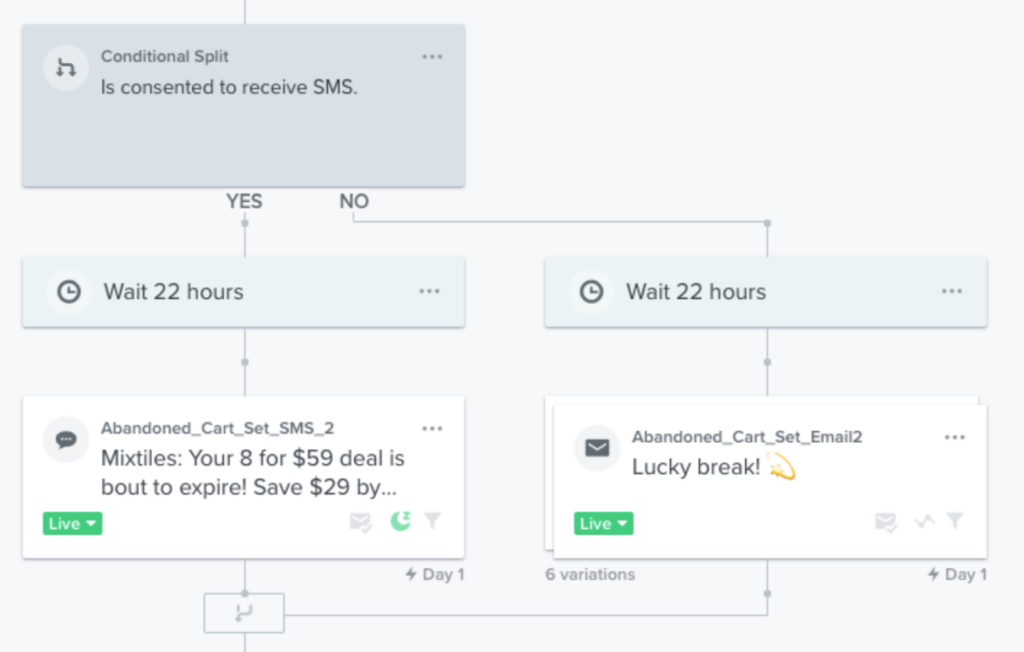 Guy is responsible for testing and optimizing when Mixtiles' customers get a text or email, so crafting a united message that resonates and drives revenue is critical.
What's next for Mixtiles' SMS and email strategy?
As Guy plans for Mixtiles' year ahead, SMS messaging is pivotal to his strategy of building relationships with his customers. Along with the abandoned cart flow, Mixtiles will continue to add SMS messages alongside its email automations.
With a data-first approach at the heart of Mixtiles' email and SMS strategy, Guy is sure to win his customers over with messages that land in their email and text message inboxes.