Write SMS campaigns in seconds with Klaviyo's new AI-powered SMS Assistant
Klaviyo customers use campaigns to send one-time messages to pre-established target audiences — think regular newsletters, sale announcements, or promotional sends — using either email or SMS. 
With Klaviyo's new, first of its kind, AI-powered SMS Assistant, marketers can now plug-in a few descriptions about their SMS campaign to generate examples of compliant SMS copy in just a matter of seconds. For example, you know you want to drop a new product for Mother's day but aren't sure what to say. Just enter "Mother's Day", product drop, and a few words about the product. In seconds, you'll be able to shuffle through multiple options of  recommended copy for inspiration and customize any of the examples to match your brand voice.  
The challenge
New channel, new challenges
Copywriting is hard. Creating succinct messaging that informs and delights subscribers enough to drive them to purchase, takes a lot of practice and experience to get right. Tailoring your messaging to the specific channel it's being delivered on can also be challenging, and no other channel requires makreters to be more succinct in their copywriting than SMS marketing.
Text message marketing is new for most brands and marketers today. As a brand new marketing channel, it's difficult to find and learn the best practices for sending compelling text messages that also meet the ever changing compliance requirements of mobile carriers. With this feedback from our customers, the Klaviyo team set out to create a tool that uses machine learning to make text message copywriting easier.
The solution
AI-powered SMS copywriting
Klaviyo's SMS Assistant is the first SMS tool to automate copywriting for text campaigns, one of the most time consuming and difficult steps in the creative process. The SMS Assistant is also trained to be compliant with mobile carrier regulations and avoid sending any forbidden SMS content. 
This SMS Assistant is the perfect tool for marketers who are considering SMS for the first time. It eliminates the content creation learning curve for this new channel, while providing confidence that your messages will meet compliance regulations. Even for those more experienced with SMS marketing, this tool will cut down the time it takes to write content and can provide new inspiration in your text message creation.
Getting started
To access the SMS Assistant click the purple lightbulb icon in the right hand corner of the SMS campaign editor. The first step in using the assistant is to select a campaign type. You'll have 4 campaign types to choose from: 
Promotion
Product Announcement
Newsletter
Other
Based on your selection, the SMS Assistant will generate content using verbiage to match. For example, selecting "Promotion" will generate content related to urgency and sales.
After you select a campaign type, it's time to input information about your campaign. This will include the name of the product (optional) and then a brief description of the campaign. It's important to note that the more information you can provide, the more relevant the generated campaigns will be.
Once you've added information regarding the campaign, simply click "Get Ideas" and the SMS Assistant will generate 3 messages based on your inputs. In most cases, the SMS assistant will provide two shorter messages utilizing 1 SMS to send, and one longer message that will utilize 2 SMS to send. If you've found an SMS message you'd like to use, simply click on the text box of the message to populate it into the SMS editor. Doing so will append the selected message to any existing text you may already have in the editor, rather than replacing it completely.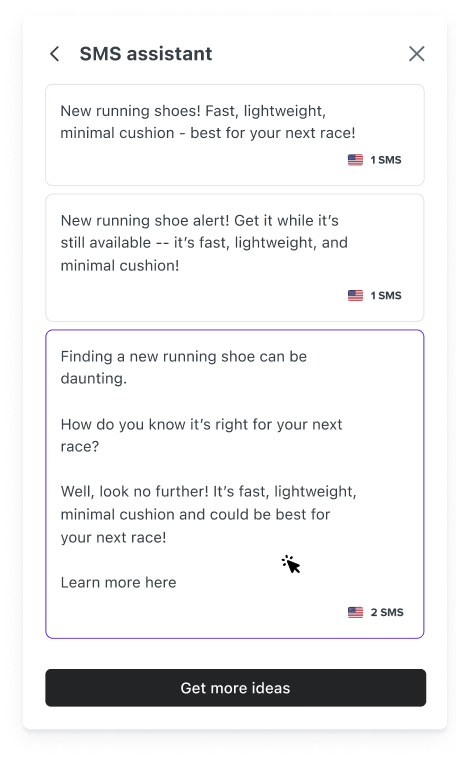 If you wish to see more SMS ideas, you can click the "Get More Ideas" button to display a new set of SMS messages. Warning: clicking the "Get More Ideas" button will clear and completely replace the set of generated messages that are currently displayed. If you like any of the generated messages, it's best to click on the suggested message text box to add it to your message editor before continuing to generate new messages. 
Try the SMS Assistant in your next SMS campaign and get inspired!