A Mother's Day email campaign guide: how to honor all moms with empathy + 19 brand examples
Consumers agree Mother's Day is a time for togetherness: 84% would prefer to spend this holiday with their family, according to a recent survey conducted by Klaviyo.

It's also an occasion for consumers to give a little something back to the women or mother figures in their lives who have given them so much.
In 2022, Americans spent $31.7B on Mother's Day, which means that if your brand sells products that might make a great gift for somebody's mom—or even if you just want the opportunity to connect with your subscribers over the idea of motherhood—you should take the opportunity to participate.
This goes double if your brand sells something that is traditionally bought for moms: health and beauty products and home furnishings, in particular.
So how can you help as a marketer? You can start by trying to put yourself in your subscribers' shoes.
As you begin to create your Mother's Day email marketing campaign, it's important to keep in mind that everyone's experience with their mothers and motherhood may look a little different.
This doesn't mean you have to skip Mother's Day promotions all together, but it does mean that you might want to carefully consider how you communicate these promotions with your customers.
Read on to discover:
New research from Klaviyo on Mother's Day
New research shows that putting the time and effort into a thoughtfully crafted Mother's Day message pays off. Literally. Top performing Klaviyo customers attributed an average of over $730k to their Mother's Day email campaigns.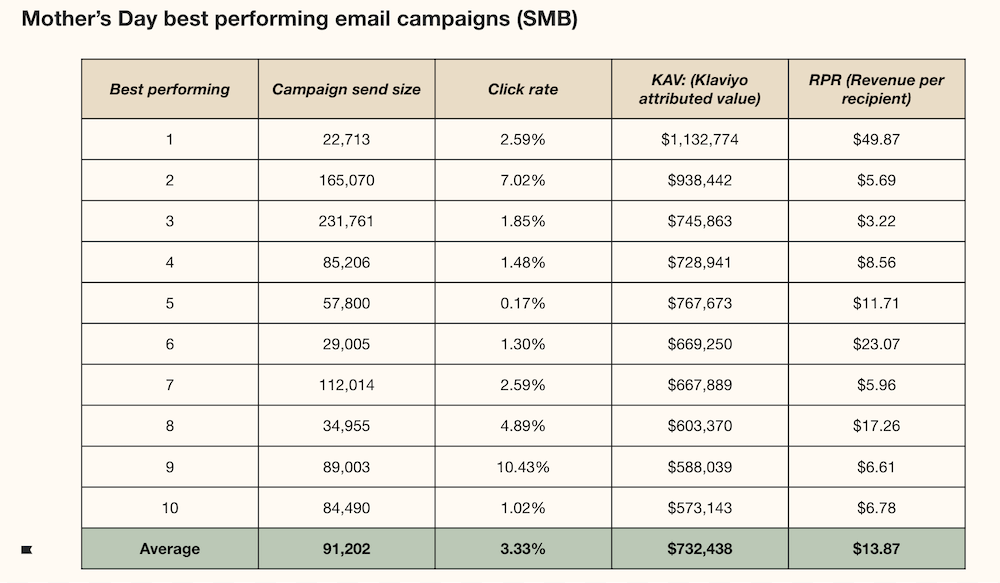 SMS campaigns proved to be worth the effort as well, with average KAV (Klaviyo-attributed value) over $30k.
Mother's Day marketing strategies: how to communicate with empathy and build genuine connections
From the pandemic to social and political upheaval, the past few years have been a difficult time for many people—personally and professionally.
Showing empathy for your community and your customers is more important than ever as you navigate marketing your brand and building customer relationships.
While communicating with empathy is an ongoing practice brands are implementing across many, if not all, of their marketing campaigns, Mother's Day is a holiday you may want to treat particularly delicately.
Why? Many of your customers and email subscribers likely struggle with Mother's Day.
For some, it could be a reminder of a strained relationship. For others, it could lead to a feeling of exclusion if their mother figure is someone who exists outside of the traditional definition of a mom, or if they're struggling to become a mother themselves.
For many whose moms are no longer with us, it can be especially hard to see a constant influx of marketing content around the subject.
Ensuring your customer communications are transparent, honest, and empathetic demonstrates that there are actual people behind your brand—and that you care about your audience as human beings, not just as potential customers.
Here are 2 strategies to help your brand communicate from a position of understanding and kindness this Mother's Day.
1. Give your customers the option to opt out of Mother's Day emails
In some instances, Mother's Day can be a celebration of joy and love. In others, it can be painful or upsetting.
By acknowledging that Mother's Day isn't a one-message-fits-all kind of holiday, you can craft your content with a customer-first approach.
A Mother's Day opt-out email campaign is a great place to start. It's simple and sensitive, and it puts the power of choice in your customers' hands.
This Mother's Day email from FreeFly Apparel, for example, respectfully provides readers the option to opt out with a single click—and highlights the brand's commitment to only sharing content that matters to their audience.
UK-based Bloom & Wild received so much positive feedback from their first Mother's Day opt-out campaign that they're bringing it back again this year.
They also provide an opportunity to opt out on their ecommerce website. This gives customers yet another way to tell the brand they don't want to receive messages around this holiday.
Another option: Use your sign-up forms to allow subscribers to opt out of particular campaigns or messages right from the get-go. By providing the option to select message preferences as you're collecting contact information, you can be sure you're only sending your subscribers messages they've chosen to receive.
You might be thinking, "But why would I give my subscribers the option to opt out—and decrease my list size in the process?"
First, if you only create an opt-out option for your Mother's Day marketing campaigns, customers who opt out don't have to completely unsubscribe from your entire mailing list.
More important, though, it's a responsible and easy email tactic to implement, and it shows that you're willing to go the extra mile to deliver a thoughtful customer experience.
2. Create a content plan that cultivates a supportive community
Allowing your customers to opt out of Mother's Day marketing initiatives is a positive way to reinforce that your brand understands sensitive or triggering situations.
But sometimes showing staunch support for the groups of people who experience hardships during this time of year can also tell your customers, "I hear you. I see you. And I stand with you."
Take a look at how Greetabl is promoting Mother's Day this year:
Not only have they implemented a Mother's Day opt-out campaign, but they've partnered with FertilityTribe to empower women "who are battling their way towards motherhood" through their "Like a Warrior" Mother's Day campaign.
Greetabl is changing the Mother's Day narrative and showing support for women who have suffered the loss of miscarriage, are struggling to conceive, or are facing other hardships related to motherhood.
When you widen what it means to honor motherhood this holiday and communicate with empathy, your brand can become a symbol of understanding, inclusivity, and community.
19 Mother's Day email examples—and why they work
Once you've decided how you're going to approach your Mother's Day content for subscribers who opt in, it's time to start planning and creating your Mother's Day email templates.
To give you some inspiration, we've rounded up some examples of Mother's Day emails that can serve as a launchpad for your own email marketing campaign.
1. Wild One celebrates all moms
Subject line: This one's for the dog moms 💘
Wild One puts an inclusive spin on the term "mother," extending it to people who have pets. Their email copy is playful and shows that even if your "kid" is a four-legged, 25-pound ball of fur, mom duties still apply.
Even better, Wild One uses user-generated content (UGC) in their Mother's Day email as a way to highlight real members of their brand's community.
It's a clever way to demonstrate what their products look like in the wild (pun intended), while also adding an element of authenticity and humanity to a promotional email message.
2. Atlas Coffee Club wants to take moms on a journey
Subject line:From Burundi to Brazil…a Coffee World Tour for Mother's Day
Besides more time for self care, what's another thing most moms are in desperate need of? Caffeine.
I'm convinced that moms were the inspiration for the idiom "wears many hats" because they're constantly juggling myriad responsibilities across their personal and professional lives.
Atlas Coffee Club wants shoppers to give mothers what they need to keep the world turning, while also bringing the taste of travel in-home.
They detail the contents of their subscription boxes in the top of the email copy so customers can be certain they're purchasing a gift that their mother will love.
3. Beachly reminds subscribers to buy in time
Subject line: Mother's Day is just around the corner… 👀💐☀️
Beachly's Mother's Day email encourages you to give the gift of sunshine this year. This coastal brand recognizes that Mother's Day is a day to celebrate all women who have taken on a motherly role—grandmothers and aunts included—and the language in their email reflects that.
And, for those shoppers who tend to be more forgetful, the email also includes a helpful reminder of the actual date of Mother's Day so they can plan accordingly.
Beachly's Mother's Day email design not only promotes inclusivity for mother figures of all kinds, it also gives a subtle nod to the convenience of shopping from your couch—reassuring subscribers that they don't have to leave their home in order to make mom's day.
4. FARM Rio lends a hand to last-minute shoppers
Subject line: Tomorrow is Mother's Day
One of Brazil's most well-known apparel brands, FARM Rio, caters their Mother's Day email toward last-minute holiday shoppers. You know the ones—the people who wait until the 11th hour to buy their gifts.
FARM Rio provides a solution that requires very little planning in the form of a present customers can purchase in a matter of clicks: a gift card.
The email itself encapsulates not only the holiday rush to buy a gift, but also the seasonal spirit of spring by offering a timely coupon code in the header section.
5. Alice & Wonder shares their holiday-themed products
Subject line: 💗I Got It For My Mama💗- Shop The Mother's Day Collection
Some brands, like Alice & Wonder, offer dedicated Mother's Day product collections. Their Mother's Day gift guide includes curated photos of some of the items shoppers could buy for their mom, or for moms to gift themselves.
From fashionable apparel to quirky coffee and wine mugs, this product selection from Alice & Wonder makes it easy for consumers to find something their mother will appreciate, without having to browse multiple websites or product pages.
This example of an email subject line is a clever nod to the famous hip-hop song, "I Got It From My Momma," which is a light-hearted way to entice subscribers to open the email.
Inside, there's a clear call to action (CTA): Pre-order your items now so they arrive in time for the holiday.
6. Ippolita uses a gift guide to make an emotional connection
Subject line: Mother's Day Gift Guide
Luxury jewelry brand Ippolita's Mother's Day email uses language and imagery that puts mothers front and center. The products displayed in the email come secondary to the touching pictures of mothers and daughters—including one from the brand's founder Ippolita Rostagno herself.
This email also sprinkles quotes from famous artists throughout in an effort to convey some of the different roles mothers may play in people's lives.
Rather than focusing on material goods, Ippolita opts to emphasize the sentimental qualities that the holiday embodies—honoring the women who have been role models, friends, support systems, and caretakers.
The messaging is also cognizant of the struggles many people around the world are facing as a result of the pandemic.
Ippolita's Mother's Day email includes information about the relief efforts each purchase supports—10% of every purchase is donated to No Kids Hungry or a charity of the purchaser's choosing, allowing customers to join the brand in making a positive impact while celebrating Mother's Day.
7. Doe Lashes helps subscribers plan an outing
Subject line: Mother's Day BOGO Sale Extended!
One of the strongest ways people form connections is through storytelling. And the same goes for brands and their customers—when you share a story your customers can relate to, they feel more connected to your business.
If you're looking for examples of effective brand storytelling, take notes on this Mother's Day email from Doe Lashes.
The main section of the email is completely stripped down—there's no fuss, no images, and few design elements. It's just a story about how a mother and daughter are planning a stay-at-home date night for Mother's Day.
Doe Lashes demonstrates genuine empathy for their customers by opening the story with the acknowledgment that "mom" can mean something different to everyone. As a result, their Mother's Day email resonates with a wider audience and creates more customer connections.
The personal story leads perfectly into the BOGO promotion the brand is extending and ties in an element of humanity.
The email makes readers feel that their main priority this Mother's Day should be the plans they make with their moms, not necessarily the things they buy her. That hits home for consumers: 78% would rather receive an experience than a physical gift for Mother's Day, according to Klaviyo's data.
8. Cleancult relies on humor
Subject line: A new clean for Mother's Day
Cleaning products aren't usually the first thing that comes to mind when someone is considering options for a Mother's Day gift.
And Cleancult knows it. Their Mother's Day email humorously pokes fun at the fact that their products aren't the typical gift idea. But that shouldn't stop their customers from buying Cleancult products for their moms.
Their light-hearted approach to Mother's Day marketing plays with the definition of what it means to be a mother. According to Cleancult, consumers can and should commemorate all mothers (including Mother Earth) with zero-waste, environmentally responsible products.
9. MIADONNA is there for the procrastinators
Subject line: Oops, did you forget Mother's Day?
In this email, MIADONNA does an excellent job of balancing a sense of urgency with an empathetic tone.
Their Mother's Day email marketing campaign not only speaks to shoppers who might've forgotten the holiday or waited until the last possible moment to shop for a gift, but also recognizes that celebrations might look a little different in a COVID-impacted world.
And that's OK. Distance doesn't have to prevent you from showing your mom, or the special person in your life, you care.
10. Masami goes against cliches
Subject line: Buy One, Get One 🎁 = Mother's Day MADE
Preview text: Plus new $1600 Giveaway!
Brunch. Flowers. A nice card from the drugstore. Your mom might thank you for these gifts, but she may also expect them. She may have even gotten the same gifts over and over for years.
In other words: Celebrating her in traditional ways might take some of the fun out of the holiday.
Beauty brand Masami challenges their subscribers to think outside the box for Mother's Day gifts with a headline that pushes them to think "beyond brunch."

With a beachy product shot and straightforward, empathetic, and upbeat copy, Masami plants seeds for new ideas.
The email also has everything else you'd need to know to get a free gift, make sure your Mother's Day gift arrives on time, and take advantage of the discount.
11. P.O.P. Candy uses SMS for the hurried shoppers
If a consumer has subscribed to your brand via SMS, they're up for hearing from you. Most people are even open to hearing from their favorite brands a few times a week, according to a consumer survey on SMS marketing conducted by Klaviyo.
So, don't be shy.
P.O.P. Candy uses the channel wisely: to communicate with last-minute shoppers who may not even have time to open their laptop to go shopping for the mother figure in their life.

It's a smart move—their SMS subscribers will see this message right alongside a message from their BFF group chat or their significant other.

The SMS itself is short and to the point: the reader can see when the deadline is to get a gift in time for Mother's Day, and click through to the product page.

The candy brand's SMS marketing strategy earned them a high click rate.
12. Tea Dog motivates their customer base with a contest
Subject line: Win 20 Boxes of Tea for Mom (or Yourself)
Preview text: Win a unique teapot for mom.
TeaDog knows how fast your inbox is filling up with promotions in the days and weeks before Mother's Day. They also know that, depending on what your relationship is to your own mother or motherhood, it may be the perfect time to treat yourself.
What better way to self-soothe during a difficult season than with a big cup of tea? An equally good question: What better gift for the mother figure in your life than a teapot?
TeaDog entices subscribers to open the email with a contest—the opportunity to win up to 20 boxes of tea. Advertising the ability to win the tea in the subject line earned them not only a high open rate, but also a high click rate.
The rest of the email offers complimentary boxes of tea as a motivator to spend over $35.

We like this email campaign because it's never a bad idea to invite your subscribers to treat themselves to your products.
13. DeaDia promises Moms will get gifts on time
Subject line: Don't forget about Mom! 25% off sitewide!
Preview text: Treat your mother 🌼🌸🌼
Sent 8 days before Mother's Day, this email from jewelry brand DeaDia serves as a gentle reminder to get that gift for the mother figure in your life. The subject line is playful and includes a nudge—25% off the entire site.
No wonder this email earned a high open rate.
The takeaway? Help your audience accomplish their goal—in this case, getting their mother's day gift on time. Also: If you're offering a sweet deal, let them know in the subject line.
14. Woolino empathizes with tired moms
Subject line: Enjoy 15% OFF select styles! 3 days only.
Preview text: The perfect gift for the sleep-loving mom.
What does your mom (or mother figure) want for mother's day? If you're old enough to buy a gift, you may keep a list all year, and the process of gift selection may be easy.

But if the maternal figure in your life has a newborn, what they want might be even easier: sleep.
Woolino, a baby clothing and sleep apparel brand, empathizes with tired moms by highlighting how their products—sleep bags—can help both babies and moms get a better night's sleep.

A bold, direct headline—"This is what moms want for mother's day"—and the punchline that is bound to make the reader chuckle—"a sleeping baby"—precede the important information shoppers need to get the discount. Below, the email features clear shots of each of the products eligible for the discount.
The ingredients of this email all added up to a high click rate for Woolino.
15. Ariel Gordon removes the guessing game
Subject line: 15% Off What's In-Stock For Mama
Preview text: Use code MAMA15 at checkout.
It's a week before Mother's Day. You're scrolling through your inbox. It's in the back of your mind that you haven't finished your shopping. You know it's getting down to the wire.
Jewelry brand Ariel Gordon takes the guesswork out of what you can still buy, when you should buy it, whether it will get there on time, and how much you'll spend.
Right at the top of the email, a hero image communicates the brand's shipping calendar with clear cut-off dates. Throw in a 15% discount and over a dozen products featured in the email, and the high click rate the brand earned with this email makes sense.
16. Maya Brenner personalizes the subject line
Subject line: James Add This to Your Weekend To-Do List
Preview text: Ends tomorrow: Make sure to place all custom orders by April 19th for guaranteed Mother's Day delivery
When Mother's Day is coming up, it's a fair bet that your subscribers' inboxes are flooded with marketing emails. You've got to make yours stand out.
What better way to get your subscriber's attention than to call them by name?

Jewelry brand Maya Brenner earned a high open rate nearly 3 weeks before Mother's Day with a subject line personalized with each subscriber's first name.
The preview text also works hard: It helpfully reminds the reader when they have to place their order for guaranteed delivery by Mother's Day.
17. Sloomb gets an early start
Subject line: Mother's Day Starts Early!
Preview text: Why wait until next week? Celebrate YOU now and take special savings on your favorite items at sloomb.com beginning at 12am Eastern.
One way to set your brand up for success with Mother's Day marketing emails is to begin communicating early. Apparel and accessories brand Sloomb gets a head start—and maybe some precious brainspace before the Mother's Day rush comes in—with this email.
The brand encourages shoppers not to wait until the last minute, motivating them with a promise of "special savings." The result: a high click rate.
18. My Trio Rings makes it a family affair
Subject line: Mother's Day Sale 🌸💖 Up To 35% Off
Preview text: Get ready for Mother's Day with additional savings on diamond rings!
If your brand sells high-ticket items, your Mother's Day gifts may have to be purchased by a group.
Why not empathize with families who may be organizing a group gift? My Trio Rings spells out their co-pay feature in bulleted steps. They also forefront the hefty discount in both the subject line and the headline in the hero image.
Finally, the brand shows real empathy for those who may have to save up or pay in chunks for their Mother's Day present through their no-fee layaway explanations.
19. Helen Jon keeps the sale (very) short
Subject line: Flash: 40% off for 4 hours only! 11am–3pm CT
Preview text: Treat your mother or yourself!
Urgency can help drive action no matter the holiday. Helen Jon, an apparel and accessories brand, takes the principle of urgency very seriously in this Mother's Day marketing email, making the flash sale only 4 hours long.
Even better, they communicate the discount—40%—and the exact hours of the flash sale in the subject line. This resulted in high open rates and a high click rate.
If you're looking for inspiration for your next campaign, check out some of the best-performing flash sale email templates.
Take a new, empathetic approach to Mother's Day emails
Mothers are incredible people. They give so much and ask for so little in return.
It's no wonder that brands want to help their customers pay it forward. Mother's Day is a wonderful opportunity for people to give a little something back to the mother figures in their lives on this special day.
But not all of your customers share the same experience with their mothers or motherhood. Being mindful that Mother's Day isn't a holiday for everyone will help you communicate more sensitively and effectively with all of your customers.
Behind your brand sits you—a real person. When you connect and communicate with your customers person-to-person, rather than brand-to-consumer, you can create positive customer experiences that ultimately strengthen your customer relationships.
Get tips and tricks for your holiday marketing all year long.
Learn more
Emily Riedy
Content marketing manager
Emily Riedy is a content marketing manager at Klaviyo where she works to publish content to educate and inspire online businesses owners and email marketers. Owned marketing channels are a means to building a substantial customer base for the long-term, and the content Emily is most passionate about helps business operators create strong business foundations in owned marketing principles. Before Klaviyo, Emily worked at a paid ads agency helping businesses transform their approach to digital advertising. When she's not strategizing marketing content, she is running around the streets of Boston training for whatever race is next up on the docket. She lives in the South End with her 2 year-old basenji Fig and frequents (probably too regularly) the local Spanish tapas spot.