8 email list building strategies to grow your audience even faster
Do you know why email marketing isn't dead?
Because it's where your brand gets attention after getting permission.
Ads on YouTube, Instagram, and TikTok are an interruption. Plus, Apple's iOS14 changes wiped out much of the audience-targeting parameters that made paid social a viable option for small businesses. Cost per acquisition has since soared, and return on ad spend has plummeted.
It's not so much that paid social is ineffective—it's just that it's no longer affordable for most DTC businesses.
This is why more brands are re-investing in the email marketing process. While it may seem sexier to imagine your brand as among the first to pin its success on an emerging social platform, email marketing makes up for its lack of novelty with tangible results.
According to Klaviyo's recent marketing mix report, 76.86% of all businesses place email marketing in the top 3 ROI-generating marketing channels. And over Black Friday Cyber Monday 2022 alone, Klaviyo users brought in $2.2B in revenue with email and SMS marketing.
If you don't have an email list, it means you're leaving a lot of money on the table—but we also get it if you don't know how to start building your list. When you've finished reading this article, you'll know exactly what to do.
1. Launch an enticing sign-up form
The most common way to gather email addresses is through a sign-up form on your website.
Here are the main types of forms you'll use to build your email list:
Embedded forms live on your website as a static form with an email address field and a sign-up button, often with only one field for a potential subscriber to fill out.
Fly-out forms appear from the bottom, top, margin, or corner of the page after a specified amount of time, or when a site visitor scrolls to a specific point on the page.
Pop-up forms appear in the middle of the browser window, which makes them both eye-catching and potentially disruptive.
Full-screen forms display over your entire browser window. They make it so the visitor can't see your merchandise. They tend to be high-converting but also have the potential to feel intrusive.
Sign-up form copy: best practices
To create an email list, you have to entice your website visitors to sign up for it. One way to do that is by elevating your form copy to capture audience interest.
Copy is equally, if not more, important than the design of the form itself. In this sign-up form, herbal water brand Aura Bora makes the most of a small space with:
A clear and generous discount
An obvious place to type in an email address
A quick survey that only takes a second to fill out, but could help the brand send more personalized messaging later on
A silly, quirky question that sets the brand apart
Image source: Aura Bora
2. Personalize sign-up with interactive quizzes
Interactive quizzes are a great way to accomplish 3 things:
Collect zero- and first-party customer data on product preferences.
Build your email list.
Develop a custom welcome series that can drive more sales.
Quizzes are especially powerful for helping consumers narrow down their options. Andie Swim leverages a personalized fit quiz powered by Digidoh to help their shoppers find their perfect swimsuit fit and style. The quiz has driven more than $70K in revenue.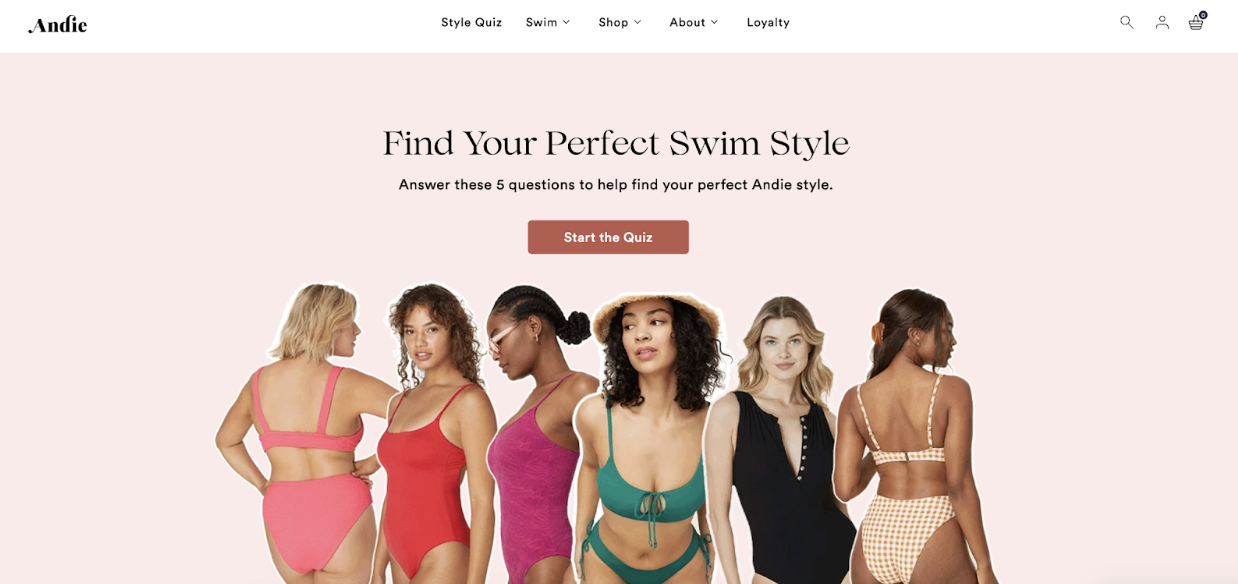 Image source: Andie Swim
3. Grow your audience with partnerships and collabs
If you're a small brand that's just starting to build your email list, partnering with a large brand could be the kickstart you need to get a lot of subscribers, fast.
Look for brands that are more well-known than yours but haven't formed partnerships in your category yet—this cross-section will make for a great partnership, wherein both brands have something to gain.
Your brand partnership will likely be about much more than building an email list. But as you're finalizing the details, here are some options you can include to make sure email list building is part of it:
Giveaways: Use your partner's email list to run a contest that requires an email subscription to enter.
Social media content: Create posts for your partner to run on their accounts to encourage people to subscribe to your email list (with an incentive).
Website promotion: Develop a co-branded email subscription form for your partner's website.
Co-branded products: Develop limited-edition co-branded products with your partner, and encourage an email sign-up for VIP access.
A great example of a co-branded product is sparkling water brand Sanzo's partnership with Disney-owned Marvel. To celebrate Asian culture in film, Sanzo created a co-branded, limited-edition lychee drink collection featuring characters from the film on the can.
Image source: Sanzo
Since 2018, sales had been growing for Sanzo by at least 400% each year. But the month of the Shang-Chi and the Legend of the Ten Rings sparkling water launch, Sanzo saw 6x growth in ecommerce revenue.
Partnerships + collabs: best practices
A few words of caution about brand partnerships: Subscribers you gather from brand partnerships may have subscribed just because they want to win something—not because they're actually interested in your brand.
Make sure you:
Properly vet brands your looking to partner with
Don't overdo this tactic—once a year is plenty
Clean your lists frequently
If you're doing lots of giveaways and contests and realize they're bringing in subscribers who don't engage, try shifting to partnerships that feature bundles and co-branded products.
4. Earn referrals from customers who love your brand
Some of the best people to help grow your email list are your most loyal customers.
If you have a loyalty program, use a points system to incentivize an email sign-up, either from the customer or someone the customer knows.
When you use a points system, you're attaching certain customer actions to benefits.
For example, Never Fully Dressed values their email list so much that they offer 100 points for an email sign-up—double the amount for following their Instagram account.
Image source: Never Fully Dressed
5. Play the long game in niche communities
If you're a brand that caters to a niche audience, you may be able to leverage small or emerging online communities to build your email list.
As more people hang out in messenger apps like Discord, Slack, and Signal, small brands may be missing opportunities to tap into those communities to build their lists.
Tread lightly—this won't be appropriate for every brand. People tend to hang out in these spaces to connect with people, not to be sold to.
But your brand may be right for this kind of list building if:
It appeals to a clearly defined, niche audience.
Your audience is united by an emotionally driven mission.
You're willing to engage in conversation with this audience as an individual with the goal to learn more rather than promote your product.
This list-building tactic requires patience, emotional intelligence, and a collaborative mindset. Your first priority isn't to ask people to subscribe to your list—it's to help your community, over a months-long period of time, and suggest a closer relationship through email after you prove your value.
6. Leverage in-store check-out to grow your email list
If you have physical retail locations, leverage integrations with Klaviyo like Lightspeed, Square, or Shopify POS to capture email addresses for receipts—and segment those customers based on their geography.
This is a great way to not only grow a large list, but also build a more omnichannel strategy as you market personalized regional content to those customers and introduce them to your larger digital brand.
7. Use A/B testing to find your best sign-up incentive
While it's standard to encourage email sign-ups by offering a discount code, it's not the only way to succeed.
Brava Fabrics was curious to see if they needed a discount code to build their email list, so they came up with an alternative.
They tested a 10% discount against a contest that entered people to win €300 in free products for signing up. The incentives performed identically, so they went with the more budget-friendly option.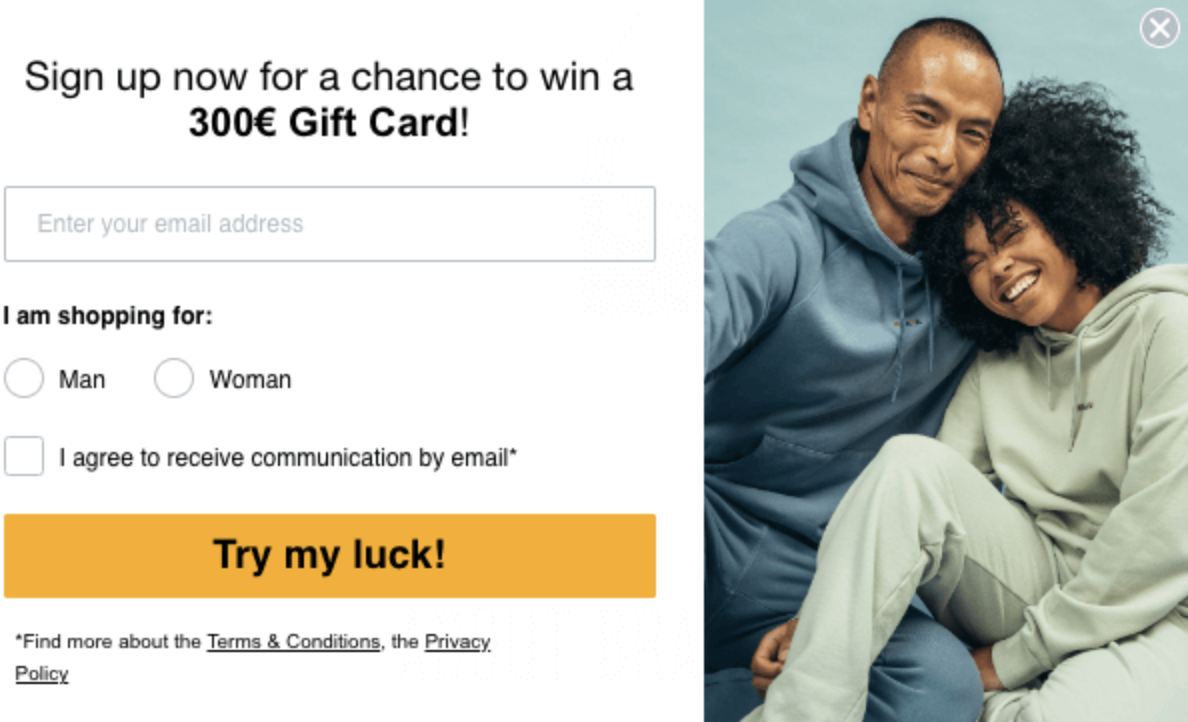 Image source: Klaviyo
Brava also tested €300 against €1K and found that increasing the prize didn't increase conversion rate—proof that growing an email list doesn't have to break your budget.
8. Build an email list with social media
If you need to learn how to build an email list from scratch, check out our article on list-building strategies that drive growth.
If you're working as part of a team that's invested in social media and you want to show leadership how you can leverage that investment to build your email list, keep reading.
When you're able to direct paid traffic to owned channels, you can increase your ROI while decreasing email retargeting costs. Here are a few ways to make that happen by using paid social to build your email list:
Promote a contest with sign-up as an entry requirement
If you want to grow your email list through paid social, consider running a contest campaign.

To enter your contest, people who see the ad need to subscribe to your email list. Bonus if you can also incentivize them further to share the post with a friend.
Pay an influencer to encourage sign-up
Consider investing in a white-label influencer campaign. This tactic gives you a bit more control over the content of an ad while leveraging an influencer's audience to ask for email sign-ups.

Not sure how to get started? Influencer platforms like Trend.io and #Paid can help streamline this.
Offer a sign-up discount via a paid social campaign
If your budget permits, skip the contest and run an ad that incentivizes an email list sign-up with a discount code. This is a great option if you're launching a new product and want to include paid social as part of your go-to-market strategy. You'll still generate some revenue from the paid ad campaign, but you'll also see the long-term benefits of expanding your owned channels.
Email list building FAQs
What is an email list?
An email list is a collection of email addresses from people who have opted in to receive marketing messages from your brand. Your email list should be split into separate segments based on audience behavior, demographics, lifestyle preferences, etc.
How to build an email list fast?
Set up sign-up forms on your website to collect subscribers, then expand your list-building tactics with interactive quizzes, brand partnerships, referrals, and offering value in niche online communities. To find the best sign-up incentives, A/B test discounts, contests, and more, all while segmenting your list as you go.
What is the best method to build an email list?
The best method to build an email list depends on your audience. At a basic level, you need a sign-up form to collect email addresses, but you want to use list-building tactics based on how your website visitors find you, whether it's through referrals, in-person interactions, social media, etc.
What's next? How to make sure you're sending relevant messages?
Segment your list as you build it. As your list grows, you'll start to notice many more ways to split up your audience, either by online behavior, demographics, lifestyle preferences, etc.
This is why email list building is just the first step to seeing high ROI with email—because email segmentation allows you to send fewer emails that have a greater impact on your brand's revenue and reputation.
If you want to keep learning, find out how email segmentation tools have evolved to make email one of the most powerful channels you can invest in for your brand.
Read more from Klaviyo's Approach
Power smarter digital relationships with Klaviyo
Get started
Emily Riedy
Content marketing manager
Emily Riedy is a content marketing manager at Klaviyo where she works to publish content to educate and inspire online businesses owners and email marketers. Owned marketing channels are a means to building a substantial customer base for the long-term, and the content Emily is most passionate about helps business operators create strong business foundations in owned marketing principles. Before Klaviyo, Emily worked at a paid ads agency helping businesses transform their approach to digital advertising. When she's not strategizing marketing content, she is running around the streets of Boston training for whatever race is next up on the docket. She lives in the South End with her 2 year-old basenji Fig and frequents (probably too regularly) the local Spanish tapas spot.
Tiffany Regaudie
Tiffany is a writer and content consultant who specializes in marketing, health, and the attention economy. Before devoting herself to freelance writing full-time, she led content teams at various startups and nonprofits in Toronto, Canada.