iOS 15: Everything you need to know about Apple's changes
Since Apple announced plans for iOS 15 at its Worldwide Developers Conference in June 2021, email marketing pros have been busy shifting their strategies to work with the upcoming privacy changes.
Editor's note: This information has been updated as of January 31, 2022.
Apple's September 2021 update has 3 main components that will affect email marketing: the ability to turn off open tracking, block IP addresses, and hide email addresses. 
With these changes, marketers have plenty of questions. And while Klaviyo addressed Apple's changes, there are still concerns about what iOS 15 means for the Klaviyo platform. 
But fear not—Klaviyo has developed some new tools to help marketing pros navigate these changes, and we're excited to share them.
Here's everything we know about the Apple iOS 15 changes.
What are the Apple iOS 15 changes?
With all the recent data privacy changes, it's difficult to keep up with every update. 
The most relevant changes that Apple released with iOS 15, macOS Monterey, iPadOS 15, and WatchOS 8 include the ability to:
Hide open email behavior by pre-loading email images, including tracking pixels (mail privacy protection)
Hide specific location data by blocking IP addresses
Obscure click-through activity by using a proxy email address 
Apple has been a long-time champion of digital privacy, and these latest features are meant to establish its leadership in the privacy space. 
How does this affect your Klaviyo account?
The iOS 15 update impacts accounts differently, depending on a number of factors. Accounts with a higher concentration of US-based customers are likely to observe larger impacts due to a higher proportion of iOS 15+ users. Here are a few trends we've observed across Klaviyo accounts: 
The network wide open rates are up roughly 15% since September 2021
Location tracking may no longer be reliable at the city and state level
Revenue attribution may be inflated
The impact on your account may vary.
How is Klaviyo responding to these changes?
Klaviyo has released three new features to help users navigate the post-iOS 15 landscape. These features are focused on three key areas: audience segmentation, revenue attribution, and analytics. 
Audience segmentation
There's a flag on the opened email event labeled "Apple privacy open" which, when used, will allow users to segment their customers based on whether or not their opens came from Apple's mail privacy protection feature. 
Below is an example of this technique being applied to update criteria on an engaged (3 months) segment: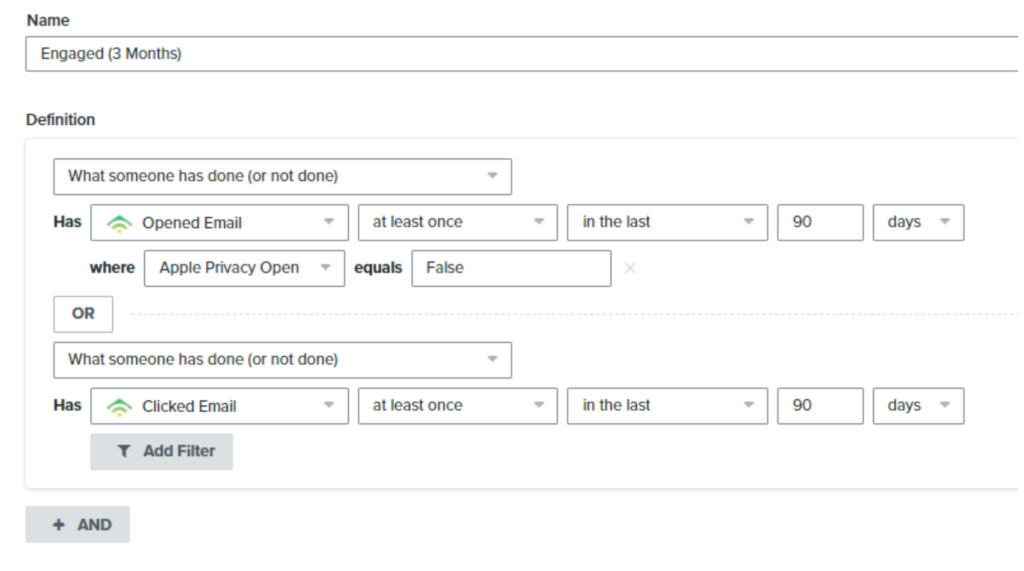 In this example, adding the condition where Apple privacy open equals "false" will exclude recipients who have mail privacy protection enabled from this engaged email segment. Keeping the "or" condition for users who have at least one clicked email event in that timeframe will include users who have mail privacy protection enabled and have clicked an email. 
The Apple privacy open field on the opened email event is reliable beginning November 20, 2021. Opens that occurred prior to this date may have values for Apple privacy open. But be aware that the coverage may not be 100%.
It is important to note that when Apple privacy open = true for a given open, that does not mean that the open was necessarily generated by Apple in an automated fashion versus being opened by a human being. Apple does not provide visibility about this function. It simply means that the opened email event came from the mail app on a device with iOS 15+ installed and with mail privacy protection enabled. 
Revenue attribution
Some users with multi-channel marketing efforts, and whose attribution settings include opened email events, may have observed an increase in revenue attributed to email in recent weeks. Observed increases in metrics like revenue per recipient could be fueled by Apple privacy opens claiming attribution for a user who subsequently converts via another channel, or converts organically.
To help account for these users, we have provided a supplemental option in the email conversion section of account settings, which will omit attribution from Apple privacy opens from future message interactions:
Please note that changing these options will not change anything about the way opened email or open rate metrics are calculated or represented in the Klaviyo app. 
Analytics
Customers can now use our custom reports tool to add total and unique Apple privacy opens as optional metrics to campaign performance and flows performance reports. This allows users to track how many Apple privacy opens are occurring for each email campaign or flow (automated) message sent.
Interested in tracking how many Apple privacy opens are happening? Use our single metric deep dive report to analyze changes over time—but remember that coverage is only reliable from November 20, 2021 onwards.
Klaviyo has opted to continue reporting open rates as-is in pre-built analytics views, such as the dashboard and campaign pages, while providing options in custom reports that allow our customers to identify and action the impacts of Apple privacy opens as best fits their business goals. We're continually engaging in conversations with our customers to understand whether supplemental analytics, or changes to reporting, will benefit Klaviyo customers moving forward.
Frequently asked questions on how you can address iOS 15
Depending on your list size, your subscriber demographics, your segments, and other factors unique to your business—there are certain steps you can take in order to optimize your Klaviyo account for the changes.
What if I'm just getting started or have a small email list?
Don't stress if you're just getting started with Klaviyo, or if you have a email list size that's fewer than 1,000 contacts—you likely have areas of higher impact that you want to focus on right now. 
Keep an eye on the changes and consider using click rates as your primary engagement metric. 
What is the impact on my list?
There are a couple ways Klaviyo will be helping you understand the impact to your account. 
Segment your audience by using the Apple privacy opens flag to find out exactly who is using mail protection privacy. For a step-by-step guide, refer to our segmentation help documentation on how to get started.
Run a single metric deep dive Report to see how many Apple privacy opens are occurring over time. Learn how to configure your report using our custom reports help documentation.
What about revenue attribution?
Apple's changes will require everyone to adjust how attribution is calculated, including Klaviyo. That's why we'll give you the option to change your attribution model for email. 
We expect at least some accounts to experience inflated open rates. We know this can lead to misleading attributions. That's why we're giving you the option to change to either a click-only email attribution model, or to omit only Apple privacy opens from your email attribution. 
If Apple mail accounts for the minority of your total email opens, or you don't engage in marketing outside of the email channel, you may want to remain on the "opened or clicked email" attribution model. 
If Apple privacy opens account for the majority of your total email opens, and you are experiencing inflated total revenue attribution across your marketing channels, we recommend switching to "opened or clicked email (excluding Apple privacy opens)" as your attribution model.
Still not sure if you want to make the switch? You don't have to decide right away. 
This option will always be available to you. Much like changes to attribution windows, you can choose to switch to any attribution model at any time. 
But keep in mind that attribution changes won't be retroactive. It will only go into effect on the date you made the change.
What about email deliverability and segmentation?
The Apple privacy opens flag is now available on the opened email event, meaning that it's possible to identify and email segment recipients who have specific patterns of Apple privacy opens. All opened email events will have a value for Apple privacy opens beginning on November 20, 2021. 
While it's not possible to identify whether a given Apple privacy open was completed by a human being or a machine, it is possible to use this data to improve your segmentation capabilities post-iOS 15. 
For example, you can now add a condition into your 30-day engaged segment where Apple privacy open = false, or Apple privacy open = true and clicked email in the past 30 days >= 1. In general, we recommend expanding your engaged segment definition to include other signals of engagement like clicks, purchases, and site activity—to name a few.
If you have any automations (or flows) that trigger based off of email opens, consider expanding that trigger definition to include a condition for Apple Privacy Opens, and other engagement criteria like clicks or product views. 
Most importantly, if you haven't been maintaining your list health, now is a great time to do some list cleaning to make sure you're only contacting people who want to hear from you.
What should I do about the "hide my email" feature?
Another iOS 15+ feature recently unveiled by Apple is hide my email. Profiles generated by this feature can be treated like a regular profile—and these profiles can be emailed to confirm opt-in, and to communicate marketing and transactional messaging.
There are a couple of wrinkles to keep in mind when reconciling activity for a hide my email profile:
Users can decide to begin using a "hide my email" address at any time—during sign-up, check-out, etc. This means there may be gaps in attribution for specific profiles. For example, if an incumbent profile opens and clicks through to your website, they may choose to checkout with a "hide my email"-generated address, obfuscating attribution for the incumbent profile but generating a new "organic" conversion for the "hide my email" profile.
Users on iOS 15+ have the ability to generate many "hide my email" addresses—meaning that someone can maintain a single address per brand. They will also have the ability to change the value of their "hide my email" address for a given brand at any time.
It is possible to identify profiles created via the "hide my email" feature through segmentation, as these profiles will include an "@icloud.com" email domain. And these domains will most likely have been created after September 2021. 
While we are continually exploring tooling to make it easier for our customers to navigate iOS 15, right now there's no solution to unite "hide my email" profiles with its "true" profiles. In addition to the inconsistency in profile management that this would introduce, "hide my email" is a privacy protection that Apple has put in place. Circumvention of the "hide my email" feature is not in the spirit of privacy protection.
What about A/B testing and smart send time?
We anticipate that our algorithms for A/B testing and smart send time should be powerful enough, even with inflated open rates.
If you conduct regular A/B tests and more than 45% of your email opens come from Apple Mail, you might want to consider switching to click rates as your winning metric. 
For smart send time, the algorithm doesn't look at open data on the individual level, so the optimal send time results should remain accurate—but it may take longer to calculate. 
If you haven't already, this could also be a great time to consider adding SMS to your arsenal to make sure your messages continue to be timely and engaging. 
Your partner in navigating iOS 15
Open rates aren't the defining factor of the success of your email marketing program, even if it may feel that way. Although iOS 15 is going to bring changes, we'll continue to deliver the best possible experience so you can continue to grow your business—even if that means doing some things a little differently.
Rest assured the Klaviyo team is working hard to help make the transition easier for you.
Nader Fotouhi
Nader Fotouhi is a product manager at Klaviyo focusing on email campaigns and deliverability. When he isn't thinking about emails, he's probably on the golf course.