With our new A/B testing metric for conversions, get a valuable new perspective on what's working and what's not
Practice makes perfect — and so does testing things over and over again. Want to take your performance to the next level? With Klaviyo's A/B testing capabilities, it's easy to test different components of your email and SMS messages — subject lines, body copy, CTAs, images, send time — to determine what resonates most with your customers. Now, you can get a little more sophisticated.
To date, Klaviyo A/B testing has let you measure results based on what got the most opens, or what got the most clicks. With our upgraded A/B testing, you can test for what drove the most sales. Once you have a winner, you'll know how to build your next email or SMS message to drive the most revenue.
Opens and clicks don't tell the whole story
Say you've got a jewelry brand that just launched a new collection, and your marketing team is sending out several product campaigns to promote your winter line. With lofty revenue targets for this new collection, you need to be sure you're doing everything in your power to drive purchases through your email and SMS strategy. 
For your first email campaign, you decide to build two variations to test which product promotions perform best in your email: best-selling earrings, or best-selling necklaces. Up until this point, you would select "click rate" as the metric that would determine the winner of your experiment. Although it is great to know if earrings or necklaces drive more people to click, how could you be sure the same product category is also leading to more purchases? With another launch campaign going out next week, you want to feel confident you're promoting the products that will drive the most revenue.
Test your messages to see what drives the most sales
With our upgraded campaign A/B testing, you can now choose the winner based on what email or SMS message drove the most purchases. 
Want to give it a try? It's as easy as the A/B testing process you already know and love. Once you're done building your campaign with multiple variations — whether that be a different send time, layout, or CTA button — you'll see an option to select "placed order rate" under your winning metric selection.
Klaviyo will recommend a test size and duration based on the number of people in your recipient list. You can modify these recommendations as you'd like but we encourage you to follow A/B testing best practices to ensure the test is set up to deliver confident results. 
Your customers will likely take longer to make a purchase than they would to open or click your email. When testing for sales, Klaviyo will automatically recommend a longer testing window to allow customers enough time to make a purchase before declaring the winning message.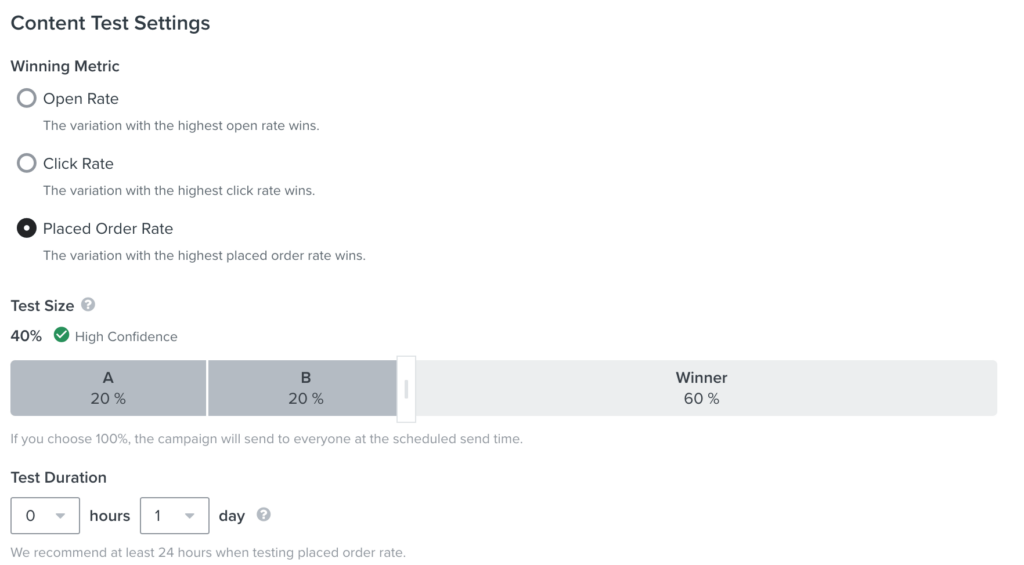 Once the test is complete, it's easy to see how each message performed. With our upgraded A/B testing, your jewelry brand quickly learned that the best way to reach the revenue targets for your new collection is to promote best-selling earrings. It was a no-brainer when choosing which products to include in your next email campaign. What will you test next?
Test, learn, and drive more revenue
A/B testing is an easy and effective way to learn what aspects of your marketing resonate most with your customers. Our upgraded A/B testing makes it easy to zero in on what sells. Get started today by creating an A/B test for your email or SMS campaign.

For all A/B tests, it's important to follow best practices to ensure your test delivers accurate results. Check out "Always be A/B testing your emails: tips, techniques, and best practices to increase click rate and email attributed revenue" to help you get started.
.