Use Klaviyo's Customer-First Data to Supercharge Your Google Ads Strategy
Klaviyo has partnered with Google Ads to make it easier for ecommerce brands to target more highly-qualified buyers through a direct integration. With data privacy restrictions intensifying, paid advertising becoming more competitive, and advertising cookies falling out of favor, the ability for brands to leverage their first-party data––the data their buyers are willingly giving them––is becoming increasingly important. This new integration allows brands to sync valuable first-party data, like Klaviyo segments and lists, directly into Google Ads, enabling brands to further optimize their paid marketing strategy. 
With this integration, brands can now leverage Klaviyo data on browsing activity, purchase activity, predictive analytics, message engagement and more, to power targeted ads across Google's channels.
Marketers no longer have to download data from Klaviyo, upload it into Google Ads, or spend time shuffling customer data spreadsheets. The Klaviyo segments and lists that are synced to Google Ads stay connected, meaning your Google Audiences will always be up to date.
Better channel orchestration means better return on ad spend
When you integrate Klaviyo with Google Ads, you can leverage this paid ad channel alongside email, SMS, push and social ads, so that brands can connect with the right customers at the right moment in their customer journey. 
Some use cases include:
Find more profiles like your existing VIPs to surface awareness-level ads 
Retarget existing customers who haven't made a purchase in a while, have items left in their cart, would be interested in cross-sell / upsell products, etc.
Create exclusionary segments to ensure you're not showing ads to recent customers, those who have items in their cart, or those who are actively engaging with your owned channels.
You can also leverage this integration to find your next best customers. Just build a Klaviyo segment of your current VIP customers, and then use Google's Similar Audiences to get your brand in front of new shoppers. 
Show more personalized ads across the customer journey
With Klaviyo as your source of truth, you have access to all of your customer data, including on-site activity, purchase history, loyalty, and more. With this integration, you can leverage this data to show personalized ads throughout their journey that drive conversion.
For example, you could use Klaviyo's data to: 
Target new and existing customers with unique, timely offers at the right time 
Drive awareness of new product offerings with customers who are likely to purchase
Show personalized ads to your best customers to increase repeat purchase rates
How to integrate
You can set up the Google Ads integration in minutes. All you need to get started is your Google Ads credentials. 
Step 1: Our Google Ads integration is one of our featured integrations, and you can set it up right in the app by visiting the integration page, and clicking "Connect to Google."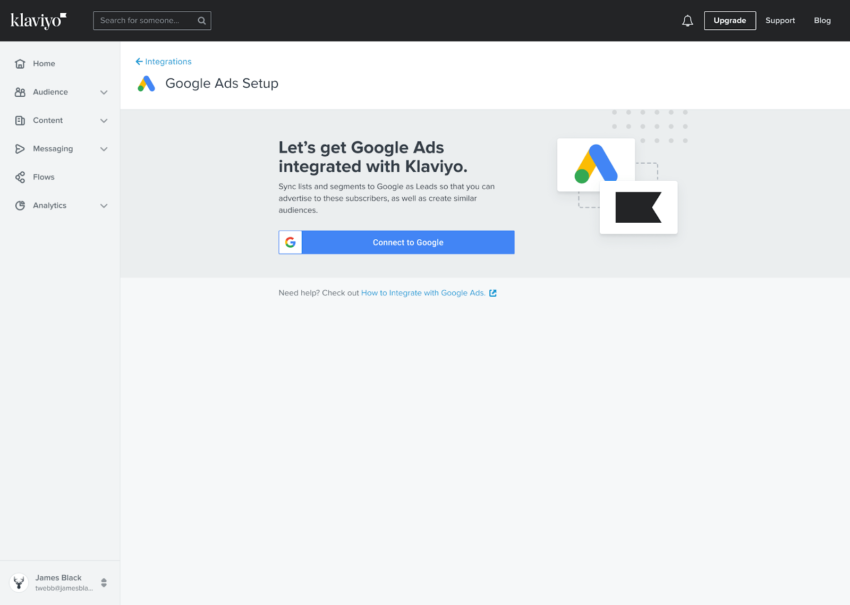 Step 2: Complete the brief authorization process, then can select the appropriate Google Ads account. Note, this drop-down will only show accounts where you have admin access.
Step 3: Now you're ready to start creating syncs between Klaviyo and Google Ads. Click "Add Connection" to start the process. Once all of your lists and segments are synced, click "Complete Setup".
Ready to get started?
Enable the Google Ads integration here. To learn more about this integration, check out our help center here.