Ecommerce quizzes: the secret to scalable Customer-First Data™, according to these 11 brands
If you've ever walked into a Costco, you've probably experienced the feeling of being overwhelmed by choice.
Similarly, when a shopper lands on your website for the first time, they might encounter the same feeling:
Where can they find the product they need?
How do they choose?
How do they know it's the right one?
How will it solve their problems?
Enter the shoppable quiz.
Featuring a quiz on your ecommerce site can serve as your assistant to help shoppers better identify which products from your brand are best for them. This in turn leads to a higher conversion rate.
It's kind of like having a concierge service at your retail store to help someone find the exact items they're looking for to solve their specific problems.
More so, ecommerce quizzes help your brand collect more Customer-First Data™—that is, zero-party and first-party data. And Customer-First Data is integral to building out a customer-first marketing strategy to grow your brand sustainably outside of social media advertising.
Wondering where to start when it comes to implementing a quiz for your brand?
Discover how top brands like Paula's Choice, Fenty Beauty, Doe Lashes, Amika, and Jones Road all use quizzes to gather customer-first data and enhance the impact of their marketing.
Why use an ecommerce quiz?
More than ever, brands need to forge genuine connections with their customers on their owned channels. Quizzes give brands an effective way to source Customer-First Data to power stronger bonds and build lasting relationships with customers.
Better yet, your online quiz won't be sitting on your homepage collecting dust. Consumers are thrilled to engage with this type of interactive content: 83% of consumers say they're willing to share their data with brands if it leads to more personalized experiences, according to Accenture.
Beyond the collection of Customer-First Data to build better experiences for your customers, interactive quizzes are also proven toboost onsite conversion rates in general. Take Florence by mills, a celebrity-owned beauty brand which doubled their on-site conversion rate and collected 23,000 new email addresses through a quiz, for example.
Ben Parr, president and co-founder of Octane AI, will tell you firsthand how quizzes have been impactful to the brands he's worked with.
"Quizzes are force multipliers for an ecommerce brand's SMS and email marketing," says Parr. Quizzes increase the number of email addresses and phone numbers a brand can collect because engagement rates are significantly higher than pop-ups,"
"They also help brands gather valuable Customer-First Data that they can't get anywhere else—and this data supercharges SMS and email by hyper-personalizing flows and campaigns," he added.
Pro tip: Octie.ai, a tool from Octane AI, uses artificial intelligence to write marketing and support copy for brands, it can write anything from emails, text messages, product descriptions, to even designing a product quiz—and it's completely free to use.
The 4 types of ecommerce quizzes
There are 4 main types of ecommerce quizzes you can create to engage your customers and collect CustomerFirst Data.
The type you decide to use will depend on who your audience is, what problems your product solves for them, and maybe even where they are in their buyer journey with your brand.
Here are your quiz options.
Product recommendation quizzes
Improve shoppers' decision making process—and increase conversions—by using a product recommendation quiz to help customers zero in on the ideal product that aligns with their needs and preferences.
Leather bag manufacturer Latico Leathers offers a bag finder quiz on its website to guide customers to their perfect bag. Since the implementation of the quiz, the company has seen a 10% increase in revenue.
This quiz helps shoppers identify their bag style by asking questions like, ""What type of bag are you looking for?"
Ben Schreiber, head of growth at Latico Leathers, emphasized the company's style quiz is a great tool to complement their paid ecommerce advertising strategy because it engages customers who may be coming in through third-party channels and may even be unfamiliar with the brand.
"It's becoming harder for a small business to grow and scale with paid social and paid search," says Schreiber. "Marketers will continue to leverage paid advertising, but the tracking and the attribution is going to get tough, which is very difficult for small brands that need to know exactly where each dollar gets them."
The use of an ecommerce quiz was a quick and profitable solution for Schreiber's team, who are focused on improving the things they can control, like on-site conversion rate.
One way they've done that is by incentivizing consumers to purchase at the end of the quiz by offering a 15% discount when that consumer provides their email address.
A customer platform like Klaviyo then creates a unified user profile of that consumer which Latico uses to send more personalized and relevant email campaigns and SMS messages.
"Capturing Customer-First Data at the top of the funnel is far more effective than trying to speak to a broad audience and telling them to come and buy a product from a brand they're not familiar with," says Schreiber. "The first step you should take in marketing to a cold audience is to spark their interest and capture their email address so you can more accurately remarket to that individual."
Collection recommendation or routine finder quizzes
If you offer product lines that include complementary items, a collection recommendation or routine finder quiz is a great option. These types of ecommerce quizzes help your customers more quickly see value in your product line—all while you achieve a higher average order value (AOV).
That's what you call a win-win.
These types of ecommerce quizzes are specifically great for health and beauty brands including skincare, and hair care brands.
Let's take a look at an example: Paula's Choice Skincare. The brand asks customers a series of questions to better get to know shoppers' skin types and concerns.
After taking the Paula's Choice quiz, shoppers are presented with a personalized skincare routine featuring recommended products to target their individual needs, including an array of exfoliants, serums, and moisturizers.
This is why these types of quizzes are most useful for health and beauty brands. Any industry that has certain "types" that people often identify themselves with can use one of these quizzes. In health and beauty, those types usually include type of skin, hair, concern, outcome, etc.
Virtual consultation quizzes
One of the biggest complaints about online shopping is that you can't try products before you buy them. In fact, shoppers return 20% of the products they buy online, compared to just 9% of items they buy in brick-and-mortar stores where they can see, touch, and feel products before making a purchase.
In the fashion and apparel industry, online fit finder quizzes have helped consumers find the right size for this body type. Other industries have launched similar quizzes, like shade finders in health and beauty, auto quizzes in the automotive industry, and more.
These types of quizzes are ultimately virtual consultations, and they help consumers who can't physically engage with a product better find exactly what they need in the digital world.
"Brands don't need to over-think their quiz or the questions they ask," says Parr. "Just ask yourself, 'What would I ask my customers if we were in the store? What do I need to ask them to help them find the right product? Many of the questions in each industry are similar, whether you're in beauty, fashion, baby, furniture or jewelry."
Cosmetics brand Fenty Beauty, for example, offers a shade finder quiz.
This helps customers discover their skin's undertones and choose the right shade of makeup.
Since Fenty offers 50 shades of many of their most popular products, such as their foundation and concealer, the consultation quiz helps shoppers skip the guessing games and complete their purchase with confidence.
Educational quizzes
None of the above quizzes sound right for your audience? Then an educational quiz is probably a better fit for your brand.
Educational quizzes are great for brands that can't use any of the other quizzes in a way that makes sense for their audience. This is because educational quizzes show off all the different use cases for your products, and position your brand as a thought leader in your space.
Perfect!
Educational quizzes can even be used if you sell only a single product.
Take Marea Wellness, for example. The brand sells a multivitamin—a single product that they offer as a subscription service.
Some marketers might look at Marea Wellness and say that creating a quiz for the brand is next to impossible.
But after talking to her customers, founder Monica Grohne discovered people were seeking more education on how the elixir could help address their individual symptoms.
"One of the things that we hear most often from our customers is, 'How is this going to help my symptoms?' It's not like we can do a quiz and suggest a product, because we only have one product. Everyone would get the same results," says Grohne.
"Instead, we wanted to figure out how we could have people input what their symptoms are—then we could tell them how the nutrients in our product support their symptoms. This way, we're educating the customer on our product based on their needs and narrowing in on the ingredients that support their symptoms," she added. "The quiz is a new approach to product education that was based off of a general question that we kept receiving."
Through Marea Wellness's quiz, Grohne excels in something that all marketers should be doing anyway—she focuses on the "Why" of her product instead of the "What."
If you're doubting whether a quiz can add any value to your online store, consider whether there's an opportunity to use it as a vehicle to communicate the "Why" behind your own products.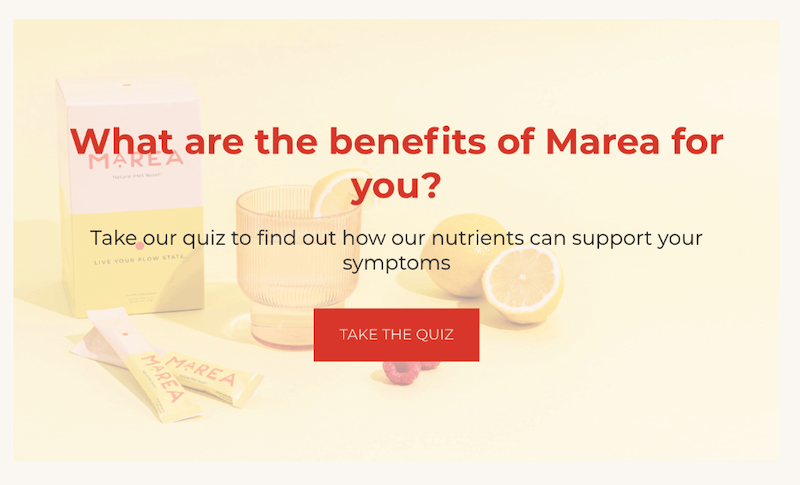 The 7 benefits of ecommerce quizzes (data, engagement, and personalization—oh my!)
Ask anyone from Buzzfeed and they'd likely confirm that people love to take quizzes.
In fact, the media company found that 96% of people who take a sponsored quiz finish them, proving the engagement rate is incredibly high.
But for ecommerce brands, they're also an exceptional tool for growth. Here's a closer look into how, exactly, quizzes can fuel a more personalized marketing strategy.
More Customer-First Data and deep customer insights, faster
Today's shoppers keep their email addresses and phone numbers close to their chest, unwilling to hand them out to just any brand that they come across.
But quizzes provide brands another method beyond pop-ups to collect this highly sought-after data and encourage people to opt-in.
Let's look at an example.
Doe Lashes, a Korean false lash brand, uses its online quiz to collect email addresses. Users are encouraged to sign up for its communications to see their quiz results page and to receive product recommendations.
This quiz does a great job of collecting an email, sending product recommendations, and building a detailed user profile in Klaviyo, but it goes beyond even that. Through this quiz, the Doe Lashes team discovered critical information about their customers' experience level with lashes, which it then used to better inform its marketing strategy.
"Doe Lashes thought most of their customers were experienced with lash products, but their lash quiz told another story—most of the people visiting their website had never worn lashes before!" says Parr.
More consumer confidence + more UGC = a next-level acquisition flywheel
Steve Jobs wore a black turtleneck every day for a reason—because decision fatigue is all too real. In a world saturated with products and information, customers can easily be overwhelmed by too many choices.
In the ecommerce world, we can see indecision taking a toll when it comes to abandoned carts: 70% of consumers put items in their carts and leave websites without ever making a purchase.
Quizzes can be a powerful tool for both consumers and brands, offering a way to narrow down selection quickly. Use them to offer customized product recommendations that help your customers make informed, confident purchases and, as a result, drive increased conversions and fewer returns.
"Quizzes represent a unique win-win for both consumers and brands," says Parr. "Consumers often don't know what products to buy, so they rely on quizzes to help them figure out the right products, gifts, routines, recipes, and more."
Hair extensions manufacturer INSERT NAME HERE (INH) offers users three different kinds of quizzes to help customers find the best products for their needs.
They can find extensions to match their hair color, choose an ideal ponytail extension, or, for beginner users, take a quiz to help them know where to start with buying hair extensions.
By appealing to customers' different levels of familiarity with extensions, the INH quiz helps users find the perfect product fit. And by offering a single, ideal choice rather than multiple options, it helps reduce customers' decision fatigue and make a more confident buying decision.
Craft more personalized emails, text messages, and marketing journeys
Quiz results offer valuable insights into your customers' needs, preferences, and expectations through Customer-First Data.
But the real magic of collecting this data is not simply what you know, but what you do with it.Follow in the footsteps of savvy brands like Hunter & Gather, which use this quizzes and the data gathered from them to create personalized email and SMS campaigns.
These campaigns have already increased email flow revenue for the brand by 258%.
To hit that mark, the Hunter & Gather team first launched a quiz to collect data about customers' diet preferences. From there, they used that data to send targeted email campaigns tailored to customers' personal diet and nutrition goals.
This significantly grew their email list, increased email marketing conversion rates, and they found that one in five customers who took the quiz went on to buy products.
"Implementing an Octane's shop quiz allowed us to create a personalised shopping experience for Hunter & Gather that helped grow their email list and collect valuable zero-party data about each customer's preferences and dietary requirements," explains Carmen Alldred, marketing strategist at Blend Commerce, the agency behind Hunter & Gather's email marketing.
"Using this data, we built highly targeted segments, flows and email campaigns with personalized messaging and product recommendations that would delight and retain their customers," she went on to say.
This is a great example of why it is so important to not just collect Customer-First data through quizzes, but activate it, too, in your email marketing and SMS marketing messages. It is the activation, not the gathering, of this data that will increase revenue and create unparalleled experiences for your consumers that grow their loyalty, increase retention, and of course, create a flywheel effect.
Website customization based on quiz results? Why not
One of the best feelings as a shopper is when you visit a store that you've been to before and the salesperson remembers your name. This instance of one-to-one personalization is rare, but when done right, it can make a lasting impression.
With the information you gain about your customers through quizzes, you can further tailor and personalize customers' onsite shopping experience to align with their needs, interests, and preferences.
After taking Amika's quiz, the haircare brand customizes the onsite experience by suggesting customized product recommendations. Even more exciting though, is this pop-up that tells the shopper that the website is now personalized based on the preferences they selected in the quiz.
Those products are then tagged throughout the rest of the shopping experience with a unique label saying the products were hand-selected for that customer.
This small detail goes a long way with shoppers as they look to navigate through a brand's website for the products that make the most sense for them.
Launch better re-engagement programs and reduce CAC
Re-engagement emails and SMS messages can be powerful, and that is especially true when you already know a lot about your consumer. Use a tool like Klaviyo to segment out those who have taken your quiz but not purchased, and get re-engagement messages in front of them.
These re-engagement messages should be highly personalized based on their quiz results, so be sure your flows reflect that. Here are a few ways you can personalize them:
Offer more education to those users about the products that were right for them
Ask them if you even got the quiz right. Maybe the results were off, and they can help you correct it for the future!
Get product reviews in front of them, specifically for the products recommended to them in the quiz.
Or, here's an idea: Cosmetics brand Il Makiage follows up with quiz takers who add an item to their cart but don't complete checkout with a personalized abandoned cart email.
The brand includes a call-to-action (CTA) in the email that takes the recipient straight to the page of the abandoned product. It further entices consumers with an offer to try the product out risk-free for 14 days.
Through personalized abandoned cart email messages with links to their customized recommendations, Il Makiage is able to re-engage its customers, reminding them about products they were previously shown and motivating them toward purchase.
Improve the performance of your ad campaigns (because yes, Customer-First Data is better there, too)
With data privacy changes making Facebook advertising less lucrative for many brands, use quizzes as a top of funnel acquisition asset.
"The biggest untapped opportunity in ecommerce right now is using a quiz as the landing page for your ads," says Parr.
Parr that sending ad traffic to your quiz is the "ultimate retargeting strategy," as the quiz enables you to engage your customers' attention and then nurture the relationship through further marketing campaigns on your owned channels.
This means you engage the user that you advertised to, and then use their Customer-First Data to better educate them on your brand and the products that are right for them through email and SMS nurture streams.
Jones Road Beauty is a great example of how to retarget customers effectively using a quiz. The beauty and skincare brand uses TikTok ad campaigns to drive traffic back to its skin shade-finder quiz.
This strategy increased Jones Road Beauty's average order value (AOV) more than 50%, as well as got them:
124K new email sign-ups
2.5M Customer-First Data points
7 figures in additional profit
Parr isn't kidding when he says this is the most effective, most underutilized advertising and marketing play in the industry.
Quizzes are a win-win for both shoppers and brands
Quizzes offer incredible value to both shoppers and brands. They give you the insights from zero-party data necessary to develop personalized experiences and relevant content for your customers while providing engaging user experiences that strengthen their relationship with your brand.
This is an essential feature in a Customer-First Marketing strategy, and one of the best ways to set your brand up for success in a cookie-less future.
"The old era of online advertising is over," says Parr. "Ecommerce brands can no longer rely on third-party data. Instead, it's essential that brands shift their focus toward building out their Customer-First Data sets to power their marketing, retargeting, and advertising."
It's time to add quizzes to your customer-first marketing strategy, create content that turns shoppers into excited brand advocates and motivates them to keep coming back.
Learn more about Customer-First Data and how to collect it.
Read now
© 2022 Klaviyo. All rights reserved. Klaviyo and the Klaviyo logo are trademarks or registered trademarks of Klaviyo, Inc. or its affiliates.
Alexandra McPeak
Content strategist
Alex McPeak is a Content Strategist at Klaviyo. She helps entrepreneurs and small businesses grow. Before joining Klaviyo in 2020, Alex spent several years writing, editing, and podcasting throughout the Boston tech scene. Alex graduated from Emmanuel College. Outside of work, Alex enjoys traveling to warmer places, reading mystery novels, and eating sushi.