When to drip and when to nurture
And how to use both strategies to supercharge your email marketing strategy.
Marketers have had their hands even fuller than usual this year.
Maybe you've invested considerable spend into TikTok only to brace for a potential ban. Or maybe you're pulling back your paid ads based on the understanding that between layoffs and inflation, acquisition simply isn't a priority this season.
In any case, you're probably looking toward your owned marketing channels—your website, email list, and SMS list—to retain customers and grow your business.
And you probably know that automated email marketing has the power to outperform one-time email campaigns across the board. In Q4 2022, Klaviyo customers saw 5.83% average click rates across automated flows, compared to only 1.51% for non-automated campaigns. Conversion rates, meanwhile, averaged 1.82% for flows, compared to only 0.10% for non-automated campaigns. And average revenue per recipient (RPR) was higher for flows by nearly $2.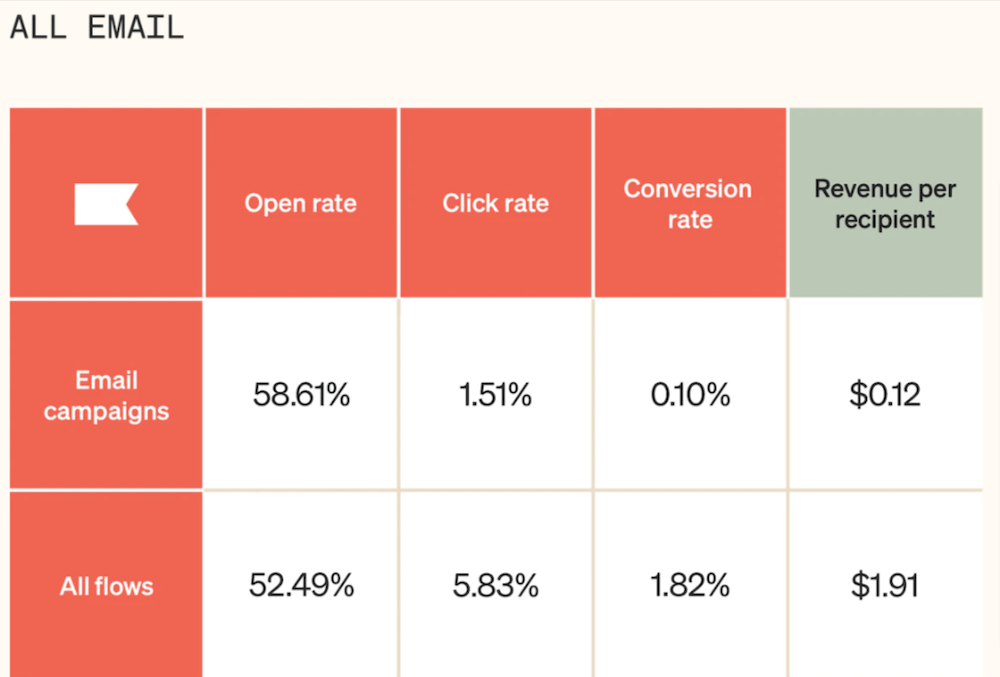 Image source: Klaviyo
But if you're unsure about what types of email automations to create and the difference between email drip campaigns and nurture campaigns, take heart: You're not alone.
Some marketers use these terms interchangeably, but they actually mean something different—and both types of automated emails have their place within your email marketing strategy.
What's an email drip campaign?
An email drip campaign is a series of automated emails that are delivered on a set schedule. They're typically intended to educate subscribers about the benefits of your products and move them further into the sales funnel toward conversion.
A good example of a drip campaign is an automated welcome series, where your subscribers receive emails the day they join your email list and then 2 days later, 5 days later, 7 days later, and so on.
The frequency of your drip campaigns and the content you include in them is up to you and should correspond to how your audience might best engage with your messaging and products. Remember that your subscribers are usually at their most engaged when they first sign up to hear from you.
Drip campaigns do lots of things, but primarily they:
Keep your brand top of mind
Educate customers about your products
Persuade them to buy from you and stay loyal to your brand long-term
Image source: Twitter
Image source: Twitter
Successful email drip campaign examples
Let's take a look at 3 common email drip campaigns and how some ecommerce businesses use them.
Welcome series
A welcome series is exactly what it sounds like—your chance to introduce new subscribers and customers to your brand.
The aim here is to help customers discover your brand, hear your story, and learn about your products—while also convincing them to shop with you.
A welcome series gives you the opportunity to increase the value of your product offering at a time when your brand is already top of mind because subscribers have just signed up to hear more.
Experts usually recommend sending your first welcome email immediately after a subscriber signs up. After that, keep at least a day between the emails so you don't come off as spammy or annoying.
UK-based independent coffee chain Grind offers both one-off purchases and subscriptions. When someone becomes a subscription-based customer, the brand sends out a series of emails every 7-10 days to share more information about their story and values and to keep their audience engaged.
Grind's roastery is local to London, so they include a personal touch in their drip campaign by introducing their head roaster, Howey.

Image source: Grind
"We've noted that if customers are going to stop their subscription, then they tend to do it within the first few weeks," explains Frankie Cooke, Grind's brand coordinator, told Klaviyo. "These emails include some editorial or customer service content to make sure customers know how to use their subscription, that they can cancel at any time, change their subscription when they want to, or even pause it. Knowing all this means customers are less inclined to cancel."
With their welcome series, Grind tries to persuade customers to continue their coffee subscription past the first month by:
Introducing their brand, story, and team
Helping customers understand their purchases
Keeping subscribers engaged with interesting and helpful content
Anniversary emails
Anniversary emails are emails sent out on a certain date, often one you collect from your customers.
You might send birthday emails to your subscribers, for example. Or perhaps you want to commemorate a customer's first purchase or your brand's anniversary.
Anniversary emails not only show your customers you care and are thinking about them, but they also keep your brand top of mind month after month, year after year—potentially resulting in long-lasting brand loyalty.
Barry M, a leading cosmetics company based in the UK, has a fun rewards program in which customers move through different tiers when they buy something, write a review, or follow the brand on social media.
Each year, Barry M wishes their rewards members a happy birthday via email and gives them extra points to use on their next purchase.
These special birthday points expire after a year. That means Barry M's customers have to spend them before their next birthday—a level of urgency that likely triggers faster sales and higher average order values (AOVs) than if the points were available forever.
Image source: BarryM
Email courses
You can also use drip marketing campaigns to create mini email courses for your customers and subscribers, where they receive a different educational or inspirational email over a set number of days, weeks, or months.
Use email courses to educate consumers about your products or area of expertise, increase brand awareness, and show authority in your niche.
Beauty brand Jones Road Beauty sends these educational emails that teach subscribers how to use a new tinted face powder. The first one features close-ups of the product and gives step-by-step instructions on how to apply it. It also includes an eye-catching visual of each shade and a link to a quiz a subscriber can take to find their perfect shade. Even a makeup newbie is likely to feel supported by this email. Finally, the email also includes complementary products.
Image source: Jones Road Beauty
The next email, sent a few days later, gives more detailed instructions on how to use one shade vs. another. Like the first one, it also includes links to complementary products, encouraging a cross-sell.
Image source: Jones Road Beauty
How to create an effective drip campaign in 3 steps
Now that we've seen some examples of drip campaigns, let's dig into how to create one. The steps to set up a drip campaign are pretty straightforward, but each one requires some thought.
1. Define your customer segments
Segmenting your audience is really an exercise in empathy—putting yourself in your subscribers' position and imagining what they're interested in hearing from you, based on what they've shown you as a shopper so far.

Some questions to think through when segmenting are:
How should you group your best customers?

By behaviors? For example:

Only shops during Black Friday
High order value
High engagement but no purchases

By preferences? For example:

Prefers SMS
Has an affinity for your sandal collection
Prefers educational vs. product release content

Who is getting Email 1? (And Email 2, and 3, and so on?)
When are they getting it (i.e. what action have they just taken)?
What else do you know about this subscriber that can inform what content they should receive? For example:

Age
Purchase history
Products viewed
Seasonal considerations (i.e. if it's May and you sell sandals, should you include them in an email?)
Location
Email engagement with your brand so far
All-time lifetime value
Data based on other platforms (i.e. quiz results, open support tickets, loyalty program membership, in-store shopping, etc.)


With a tool like Klaviyo, you can achieve incredibly granular segmentation, and the information updates in real time. This means if someone makes a big enough purchase to become a VIP according to your metrics, for example, they're automatically added to the VIP segment.
Image source: Klaviyo

"Depending on the goals of your campaign, you can combine any combination of data to inform your segmentation," says Elcee Vargas, lead product marketing manager at Klaviyo.
Since drip campaigns are focused on driving quick ROI and conversion, consider leading with segments like:
High engagement but no purchase
Expected order in the next 2 weeks
High engagement in the last 15, 30, or 60 days
If you're new to segmenting, don't be intimidated. With segmenting, you make the rules—and you can update them at any time.
Depending on the goals of your campaign, you can combine any combination of data to inform your segmentation.
Elcee Vargas
lead product marketing manager, Klaviyo
2. Plan your content
Once you've got your segments clear, you'll need to zoom out and decide which drip campaigns you want to send in the first place. This will depend on how many subscribers and segments you have, how established your brand is, and how much time and bandwidth you and your team can dedicate to these flows.
But if you're just starting out, pre-built workflows are a fantastic starting point.
Image source: Klaviyo
Once you've got a basic outline of which emails you're going to send, you're ready to focus on what actually goes in them.
A good drip campaign is bound to include quite a bit of content, as we saw in the examples above. In addition to all the regular copy and design work that goes into creating marketing emails, you may need to have any of the following assets ready to go by the time the emails go out:
Product pages
Video tutorials
Landing pages (i.e. a quiz that determines what products the user should buy)
Additional photos and other visuals
Make sure you give your team enough time to square away all the details.
3. Get the timing right
How you time your drip campaigns will vary depending on a number of factors. Think through these questions as a starting point:
What time is this audience (this particular segment) likely to check their email?
What's the action I want this segment to take?
What time is it where they are, and what's happening?
When did they last receive an email from your brand?
What would the content of this email be best received?
Once you get into a rhythm with drip campaigns, you can track your results, and then tweak anything from timing to content to improve.
Image source: Twitter
Email nurture campaigns vs. drip campaigns: similar but with deeper personalization
Nurture email campaigns are like drip campaigns since they're also a series of automated emails. But this time, a subscriber's behavior influences what you send and when you send it.
For nurture campaigns to work well, you'll need deep insights about your subscribers, such as which links they click in emails and what products they browse on your website.
These actions then trigger different email sequences to nurture your subscribers toward a sale—whether that be hours, days, weeks, or months after the first email.
Just like drip emails, nurture campaigns keep your brand top of mind. But because they're triggered by behaviors and actions, you can often personalize nurture emails far more effectively than drip campaigns.
This means you could see better engagement, fewer unsubscribes, and more brand loyalty by using nurture campaigns than you would if you only used drip campaigns.
"Today's consumer expects personalization," points out Alex Klein, VP of consumer engagement at 85SIXTY. "They expect you to know who they are and what they like or want. They expect personalized experiences from you as a brand."
"If you're not delivering on this, you'll be left behind," Klein adds. "Consumers will find another brand to be loyal to who understands them and their needs."
How to choose a drip vs. a nurture campaign
Both drip and nurture campaigns are types of email automations that are intended to guide users through a sales funnel.
Drip campaigns are sent on set days or dates, while nurture campaigns are triggered by a user's actions or behaviors.
Because nurture campaigns are triggered by actions taken by the user, they are considered more personalized.
Anniversary emails and email courses tend to work well as drip campaigns, while any type of flow that does well with more personalization is worth setting up as a nurture series.
"Nurtures are more focused on the entire buyer journey, to maintain a direct relationship with each customer," Vargas says.

"They're for your VIPs, repeat purchasers, or top customers in your loyalty program, and for them, you have to think bigger, longer-term," Vargas adds. "Consider more educational content, like how-tos, styling guides, and user generated content. You can also personalize bigger sends like company updates and product drops by making them more targeted and specific based on user interest."
High-converting examples of email nurture campaigns
Let's take a look at a few examples of well-executed nurture campaigns.
Targeted welcome series
"But wait," I hear you cry. "Didn't you just talk about a welcome series in the automated drip campaigns section?" Yep. Please bear with me.
While many marketers drip-feed their welcome emails on certain days, others use subscribers' behaviors and actions to decide which emails to send next.
Luxury brand Marc Jacobs sends this first email in a welcome series, leading with the subject line: "Complimentary Delivery: You Liked These For A Reason."
The email itself features products that the subscriber clicked on during their visit to the site. Remember: You own this data, and it's perfectly legal to use it when talking to your subscribers.
A welcome series set up as a nurture campaign—one whose cadence and content are driven by the subscribers' behavior—is a more personalized experience. And personalization is likely to foster a closer, more enthusiastic relationship and retention.
Image source: Marc Jacobs
Abandoned cart emails
Cart abandonment emails are one of the most common types of nurture campaigns. They're also frequently the first email automation brands put in place—otherwise, they'd be leaving money on the table.
According to Q4 2022 Klaviyo benchmarks, abandoned cart emails have incredibly high open rates—nearly 50% on average—and their click rates average nearly 7%. Their RPR tends to be higher than any other type of automation, too—$3.58.
Image source: Twitter
Jewelry brand Uncommon James sends this personalized abandoned cart email after a visitor puts one or more of these products in their cart, but doesn't finish the purchase.
With a subject line that reads "20% off—the finishing touch to your finishing touches," the email gets right to the point. When the reader opens it, they find the discount front and center and a CTA button above the fold.
The email also features the specific products the shopper put in their cart, each with its own separate CTA button. This is a smart move—people ditch their carts for any number of reasons, but one of them is that they can't afford every item they added.
Rather than directing the shopper back to their full cart, the layout Uncommon James presents gives them the opportunity to buy just one item—a win-win scenario for both shopper and brand after an abandoned cart.


Image source: Uncommon James
Abandoned cart flows are typically triggered by customer behavior: first, their act of filling, then abandoning, the cart; then, depending on how the shopper interacts with the first email, a certain amount of time passes, and a second (and sometimes a third) email goes out.
Win-back flows
Win-back automations, also known as re-engagement campaigns, are emails you send to inactive subscribers.
How you define "inactive" depends on your brand. Perhaps they haven't opened or clicked an email in the past 30, 60, or 90 days. Or maybe they haven't bought from you in a while.
Because they help you re-engage these subscribers, win-back emails are an important part of your nurturing strategy—especially considering existing customers tend to be more likely to convert than first-time shoppers.
Win-back emails are especially powerful when they're personalized—and that personalization relies on deep segmentation.
Jewelry and clothing brand Sivana understands that if a subscriber stops opening their emails, they don't want to be pressured into staying in touch with the brand. Sivana keeps their win-back email simple and to the point by opting for plain text and linking to new arrivals.
Image source: Sivana
Personalized up-sell and cross-sell
You've likely used up-sell and cross-sell strategies on your website to promote other products your customers might like: complementary products, brand-new items, or your bestsellers.
Good news: You can use these same strategies within your email marketing and be even more specific if you're collecting the relevant data.
Image source: Twitter
You'll usually use customer engagement signals—like products they view or buy on your website, or specific links they click in emails—to determine what content and product recommendations to send.
Skincare brand KORA Organics sends this email featuring different serums to subscribers who have recently bought at least one type of serum. This email serves as a kind of personal shopper: beginning with an offer of a free gift if you spend $100 or more, the email body features close-ups of the products, along with detailed descriptions of their benefits.
Because the segment receiving this email are folks who have already bought one type of the product featured, the expectation for spending amount seems a little higher—hence the gift with a $100 purchase or higher.
Image source: KORA Organics
Personalized up-sell and cross-sell campaigns work well as nurture streams because their timing depends on the products that your subscribers have already bought and how they relate to what you're trying to sell.
For a face serum that's meant to be used in the morning, a customer might need a few weeks to see how well it works before you send them an email trying to sell them the nighttime version of it. But for a bathing suit bought in late May, you may want to send that cross-sell email featuring sandals right away.
Post-purchase emails
After someone makes a purchase with you, you can do a lot more than let them know when their package is arriving.
In the post-purchase window, brands can send emails to customers to:
Confirm an order
Provide delivery updates
Get them excited about the products they bought
Thank them for shopping with you
Request that they write a review for what they bought
Each of these types of emails builds trust with your customers. And each of them should be timed according to when a shopper bought your product and when it will be delivered.
Take, for example, this post-purchase email from olive oil brand Graza. A subscriber receives it after they order, but before the product arrives. With community-building copy—"you're officially one of us"—and a link to recipes and educational materials, the brand begins providing value through a post-purchase email before the customer's products even arrive.
Image source: Graza
Post-purchase emails are a prime candidate for a nurture stream. Think through what could bring your customers value and when they need it. Then, plan your post-purchase nurture stream accordingly.
How to set email nurture series up for maximum revenue
Now that we've looked at all nurture campaigns can do, let's get into how to set them up.
1. Choose a pre-built flow
If you're building emails in Klaviyo, you can create a nurture series from our Flow Library. Which template you choose will depend on your marketing goals, your ecommerce integrations, and which messaging channels you plan to use (email, SMS, or both).
2. Understand and choose your triggers
Once you've determined the flow you'll create and put together the draft of the emails in your nurture flow, it's time to choose your trigger and flow filters.
A flow's trigger is what sets the automated series in motion. Here are a few examples:
Subscribers qualify to enter a list-triggered flow when they join a specific list. One example is the welcome series.
Subscribers qualify to enter a segment-triggered flow when they join a specific segment.
People qualify to enter a metric-triggered flow when they take a specific action—for example, placing an order.
People qualify to enter a date property-triggered flow if they have a specific date-based profile property set—for example, a birthday or anniversary.
Customers qualify to enter a price drop-triggered flow if an item they viewed or started check-out with drops by a set amount or percent.
Once you're clear on your goals for a specific flow, and you understand your triggers, you're ready to set up the trigger for a flow.
Image source: Klaviyo Help Center
3. Add steps to a flow
Now that you've set up your trigger, you can add more steps to your flow. For instance, you can use conditional and trigger splits to branch your flow into multiple paths based on specific criteria.
A conditional split branches based on information related to the person currently in the flow—for example, if a person clicks through but still doesn't purchase, you can send them an even more personalized email with the products they clicked on. A trigger split, meanwhile, branches based on information related to the event that triggered the flow.
4. Schedule steps in your flow
One of the things that makes a nurture flow unique is that you choose the actions that trigger each new email, as well as the timing by which your audience receives the email. It's important to add time delays between each action so they don't all occur at once, clogging your subscribers' inboxes.
When determining time delays, put yourself in the position of the reader: How much time do they need to digest the email before getting the next one?
In Klaviyo, you can set delays to any number of minutes, hours, or days.
5. Track your flow analytics
Once you've set a flow live, you'll want to track its performance. In Klaviyo, you can do this under the Analytics tab of any given flow.
As you see what works and what doesn't, you can tweak your nurture streams for better outcomes.
Set it and forget it (no, don't really forget it)
Now that you know the difference between drip and nurture campaigns, and you've taken a look through some successful examples of each, don't waste any time getting started setting them up.
Owned marketing channels are the most cost-effective and most reliable way to reach your people. The right balance of drip and nurture campaigns will go a long way toward building out your email marketing program.
Ready to own your growth? [CTA] Try Klaviyo
FAQs
What's the difference between a drip campaign and a nurture campaign?
Drip campaigns are sent on set days or dates, while nurture campaigns are triggered by a user's actions or behaviors.
When should I set up a drip campaign vs. a nurture campaign?
Anniversary emails and email courses tend to work well as drip campaigns, while any type of flow that does well with more personalization is worth setting up as a nurture campaign.
How do I create these types of campaigns?
For each, you'll need to:
Determine and define customer segments.
Plan your content.
If it's a nurture campaign, set your triggers.
If it's a drip campaign, set your timing.
Janet Aronica
Senior digital marketing manager at Edelman Financial Engines
Justine Jenkins
Justine Jenkins is a content contractor for Klaviyo, where you'll find her brainstorming and writing content to help businesses within the EMEA region to learn, adapt, and grow. Before writing for Klaviyo, Justine graduated from the University of Plymouth with a business degree and spent five years supporting, teaching, and helping businesses with their retail and ecommerce technology at Brightpearl. For the past couple of years, Justine has happily settled on life as a content writer throughout the UK tech scene. Outside of work, Justine can either be found crafting something or travelling the world—and naturally—she blogs about both.