Video marketing continues to shine: Here's how to add video in email to improve click rates
Every few years, tech experts claim we're at the dawn of a new era. When they do, they end up dividing people into two camps: the early adopters—framed as "winners"—and the skeptical laggers—framed as "losers."
You couldn't be blamed for refusing to buy into this false dichotomy. When technology always seems like it's outpacing our capacity to ingest knowledge, keeping up can feel like holding down a second full-time job.
Everyone is overwhelmed—there are no clear winners or losers.
If you work in marketing or run your own brand, you may feel more overwhelmed than most. Marketers live with an especially acute sense of duality—whereas online discourse about marketing reflects an industry moving at lighting speed, mastery of the craft is more about communicating well with channels that haven't changed much over the past decade.
But there is one recent development we'd like to bring your attention to, and it's about video marketing. We know—experts have been shouting about the importance of video since YouTube was created in 2005. The past year, however, finally signaled the first signs of a sea-change, and it's this:
TikTok is becoming a search engine.
Is TikTok replacing Google? Not necessarily. But in 2022, Prabhakar Raghavan, a Google senior vice president, finally acknowledged that TikTok was creeping into search territory.
"In our studies," he said, "something like almost 40% of young people, when they're looking for a place for lunch, they don't go to Google Maps or Search. They go to TikTok or Instagram."
This development comes with a lot of nuance to unpack. Its relevance depends on your category, audience, and product. But still, the revelation seems to confirm that video is what makes a consumer brand come alive.
"Video allows a brand to be more humanized," says Kymber Heinze, social media operations manager at SmartSites, when asked what marketing trends will take off in 2023. "Through video, you can show a potential customer what they will receive and how they will benefit from your products rather than just writing about it."
So, what does any of this have to do with email marketing?
Well, if consumers are engaging more with video—on Tiktok, in social ads, on Youtube, and as their first place to search for something new—then it stands to reason that including more video in your emails could increase click rates, and revenue per recipient.
If you're investing in video marketing elsewhere, don't overlook leveraging it in your emails. Here's why, how, and examples to get you started.
Table of contents:
Why video matters for your email marketing strategy
Video alone won't score more revenue for your brand, but it may be the most important assist at your disposal.
According to Think with Google, more than half of shoppers say online video helped them decide which brand or product to buy. McKinsey research confirms the same trend, with 57% of consumers saying YouTube influenced holiday buying decisions in 2021. If you isolate the data to gen Z shoppers, that number increases to 87% (with Instagram and TikTok as added sources).
Think about the last time you made a decision to buy something. It most likely involved at least one of these types of video:
Unboxing videos
Behind the scenes (BTS) videos
Founder stories or interviews
Educational, how-to videos
Brand documentaries
Product demos
Customer reviews
Influencer endorsements
When you combine email marketing—which yields a 122% return on investment on its own—with video, you can expect:
Higher click-through rates
Higher conversion rates (or higher revenue per recipient)
… but it depends on what type of video, when you use it, and in what context.
Keep reading to find out how to combine video with your email strategy to make your marketing campaigns more powerful.
But first: Why you can't directly embed videos in your emails
Many marketers wonder how to embed video in email campaigns.
But before we talk through how video and email complement each other, you should know: You can't embed videos directly into your emails. This means your videos won't autoplay within an email, nor will they play at all inside an email app.
According to CanIEmail, an authority on email client format support, more than 80% of email clients don't support embedded video. This is because major email clients (like Gmail, Apple Mail, and Outlook) view embedded content (surveys, forms, videos, widgets, etc.) as a security threat.
If you send emails with embedded video code, two things are likely to happen:
The email client will strip out the embedded code, and your recipients won't see the video when they open the email.
Your email will end up in junk folders, and your overall deliverability will plummet.
This is why reliable marketing automation platforms, like Klaviyo, don't support embedded videos in emails—because they know how important it is to preserve email deliverability.
The good news is that there are plenty of workarounds to adding video to your emails without affecting deliverability. That's what we'll cover in the next section, so you have all the information you need before drafting a video email marketing strategy.
How to include videos in your emails (+4 examples)
If you can't embed video in your emails, how do you make sure people see them?
Here's a step-by-step guide to cheating the system a little bit, so clicking on a video in an email becomes a no-brainer.
1. Find the right platform to host your videos
When you're looking for a place to upload your video files, you'll want to consider three things:
Non-email video goals: If email is only a slice of a larger video strategy, you'll want to choose YouTube for SEO and overall discoverability. YouTube is the world's largest search engine besides Google, and Google itself favors videos hosted on YouTube. That said, if you're creating videos specifically for social channels like TikTok or Instagram, you'll want to make sure that the videos you use in emails link back to those channels (or any landing pages on which you're hosting that content) so that you can measure engagement properly there. In this sense, using videos in email is just a part of a larger go-to-market effort for your videos.
Video analytics: If you want to use analytics to build or optimize a larger video strategy, choose a platform that will give you access to video views, watch time, average view duration, audience retention, etc. Vimeo and Wistia provide access to advanced analytics for a price, but you'll get robust analytics for free with YouTube. Social platforms like TikTok and Instagram also offer analytics, though not necessarily down to the UTM level––so you won't be able to tell for certain how many of the views were driven from your email (but you can estimate based on click rate!).

Important note: If you upload a video to YouTube then need to swap it for another version, you lose the URL and all analytics for that video. With Vimeo, you can swap out the video and retain the original URL with analytics.

Customization: If you want to customize your videos' brand colors, add interaction cards (like a call-to-action button), or password-protect videos for exclusive access, this is when you may want to consider Vimeo or Wistia over YouTube.
| | | | | | |
| --- | --- | --- | --- | --- | --- |
| | YouTube | Vimeo | Wistia | TikTok | Instagram |
| SEO and discoverability | ✅ | ❌ | ❌ | ✅ | ✅ |
| Advanced analytics | ✅ | 💰 | 💰 | ❌ | ❌ |
| Custom player colors | ❌ | ✅ | ✅ | ❌ | ❌ |
| Password protection | ❌ | ✅ | ✅ | ❌ | ❌ |
| Call-to-action buttons and cards | ✅ | ✅ | ✅ | On ads only | On ads only |
| Storage capacity | Unlimited | 💰 | 💰 | Unlimited | Unlimited |
| Pre-roll ads before your video | ✅ | ❌ | ❌ | ❌ | ❌ |
| Video editing features | ❌ | ✅ | ❌ | ✅ | ✅ |
2. Choose where viewers should watch the video
Your hosting platform isn't the same as your landing page.
Let's say you've chosen YouTube as your hosting platform. That doesn't mean you're sending people to YouTube from your emails to watch your video. You can instead embed the YouTube video file on your website, then send the recipient there.
This is true for all hosting platforms mentioned so far, including TikTok, Instagram, Wistia, and Vimeo.
We recommend sending people to your website to watch your videos for a few reasons:
You own your website, so you control the user experience.
Your video analytics will integrate well with your website analytics.
You'll encourage viewers to browse your website and take additional actions—increasing the likelihood shoppers will convert.
You can feed website data into your paid media retargeting strategy, so that folks who have seen specific videos don't get served with the same one again, and again, and again.
Your choice of website landing page depends on the type of video you're promoting. Here are some examples:
Product how-to → Product page
Brand story → About us page
Customer reviews → Homepage
Check out this example from Sunday. You can clearly see the full video is hosted on YouTube, but it's embedded at the top of their About page. It's the first thing Sunday wants people to see when they're learning about the brand.
3. Style your video graphic to encourage clicks
Now that you know where you're sending people, it's time to increase the likelihood they'll get there from your emails.
These are some of the workarounds we mentioned above, to encourage a click without embedding a video:
Use a static image that looks like a YouTube thumbnail
YouTube creators are obsessed with video thumbnails, and for good reason.
The overwhelming majority of top-performing creators on YouTube use custom thumbnail images, meaning they aren't using the options YouTube generates for them—they're creating thumbnails themselves based on some tested best practices:
High-contrast images
Adding arrows, circles, and other graphics to images
Bright colors
Text overlays
Faces in images
Treat your email thumbnails the same way and use image editing software to add a red play button for good measure. (We recommend Photoshop, Pixlr, or Canva.)
Everyone already recognizes YouTube's play button, so you may as well lean in to the expectation to increase clicks.
Check out this example from Beardbrand, which combines thumbnail best practices with a YouTube play button to entice people to click on the image.
Make an animated gif
An animated gif is a moving image that repeats itself on a loop.
You'll want to use one that gives people a preview of the video you want people to watch. The advantage is that it's more eye-catching than a still shot, but email clients support the format even though it's a moving image.
If we go back to the Sunday example, they could choose to isolate this gif preview from their brand video and add a play button to encourage people to click:
To make a gif, we recommend using apps like GIF Brewery, EZgif.com, Imgflip.com.
Add a link to your email copy
Your last option is adding a link to text—simple, uncomplicated, and effective with the right copy.
For example, if you're pushing people to an educational video or product demo with clear steps to accomplish something, you can summarize each step with email copy, then link out to the video with a call-to-action (CTA) at the end.
This is also the best route to take any time you're attempting to include a video in a completely text-based email.
East Fork Pottery embeds a video link in the text of their email, pointing readers to an Instagram video of the culinary manager building a flower arrangement.
This video helps support an idea that the brand introduces in their email, that you can use their kitchenware outside of the kitchen—their pottery also places well in a garden or greenhouse.
4. Test and optimize options for future emails
Whether you choose a thumbnail or a gif, you won't really know what works until you test it with your audience. This is why we recommend running a few A/B tests when you start pushing people to videos with email.
Here are some test examples to see which workaround works best for your audience:
Thumbnail A vs. Thumbnail B
Thumbnail vs. GIF
GIF A vs. GIF B
Thumbnail vs. text
Text A vs. Text B
When you run your A/B test, you'll need to choose a parameter to measure to determine success. For the purpose of testing what entices people to view your video, we recommend click rate.
With Klaviyo, you can customize your A/B tests parameters by audience percentage and time. For example, you can choose to reserve 20% of your email recipients for variation A, and another 20% for variation B. Depending on how many of your recipients click on the email, a winner is chosen after six hours—and the rest of the recipients automatically receive the winning variation.
Types of videos in emails and when to use them (+3 examples)
Now that you know how to successfully encourage video engagement within an email on a technical level, we'll guide you through the art of video in email marketing.
The type of video you send should be mapped to relevant moments in your audience's relationship with your brand. This is what marketers mean when they talk about lifecycle marketing.
Lifecycle marketing is complex, but it can be broken down into these basic categories:
Awareness: Someone first learns about your brand
Interest: Someone first interacts with your brand
Conversion: Someone buys your product
Retention: Someone evaluates your product to decide if they want to buy more and become a loyal customer
Here we'll teach you which videos to send via email at each stage of your audience's lifecycle, with the goal to nudge people closer to conversion and brand loyalty.
Awareness and interest: Top-of-funnel videos
For the purpose of talking about email as a channel, we've collapsed awareness and interest into one step.
Your first email interaction will most likely be through your welcome series—after someone first subscribes to your newsletter or your brand, in general. Your welcome series introduces your brand to people, so they can get to know your product and the creators behind it.
Here are some videos that work well for this stage of the customer journey:
Founder stories or interviews
Brand documentaries
Brand explainer videos
Behind the scenes (BTS) videos
Check out this example from Sackcloth and Ashes, which introduces recipients to their brand through a mini-documentary about one of their artists:
Equal parts personal profile and behind-the-scenes, Sackcloth and Ashes builds an immediate connection with their audience through their Artist Series. When you watch the video, you gain an immediate understanding of where the brand's textiles come from and who makes them. Suddenly the product becomes more than a thing you bought—it's a connection to someone's craftsmanship.
Conversion: Mid- and bottom-of-funnel videos
Conversion emails are sent when someone signals they're close to buying your product. The most common types of conversion emails are:
Abandoned cart: when someone places an item in their cart but doesn't buy
Browse abandonment: when someone browses a product page but doesn't place an item in their cart at all
When you're sending these types of emails, the goal is to push folks toward that final step to purchase. And if you want to use a video to help you, you'll most likely send a product-focused video such as:
Product demo
Product launch announcement
A more in-depth brand how-to
As an example, check out this email by Made In cookware. As a way to demonstrate their product, they send the kind of video almost everyone loves watching: a cooking video.
When you click into the video, you'll learn how to pan roast lamb from a high-end chef—but you'll also learn how to do it specifically with a Made In sauté pan. It's a product demo that doesn't feel like a product demo.
As an additional assist when a segment of your audience is getting close to buying, you can use what's called social proof.
Social proof is evidence that people bought your product and liked it. These stories are some of the most important ones you can showcase, because humans are social creatures who need other people's assurances that we're making the right decision.
If you want to use social proof videos in your email series, we recommend two types of user-generated content:
Customer reviews
Unboxing videos
Depending on your category, these may overlap. Check out this example about Cubby, maker of safety beds for people with autism, cerebral palsy, down syndrome, and other special needs.
You'll notice the video wasn't made by Cubby at all—it was made by a Cubby customer who also happens to be a micro-influencer on YouTube. This is where influencer marketing, email marketing, and video marketing can combine to create a multi-channel approach—in this case, Cubby would approach this creator and partner to feature the video in an email and elsewhere.
Post-purchase videos
The post-purchase phase of your lifecycle is to make sure your customer has the best experience possible with your product. If they love your brand, they'll buy more stuff.
The best way you can do this through email and video is to teach people how to get the most out of your product.
People love some good reinforcement that what they just purchased actually will make their lives better, and you can do that with a good educational video.
Check out this example by Bending Branches. When someone buys a paddle for their kayak, they get a video via email on how to care for their high-cost item.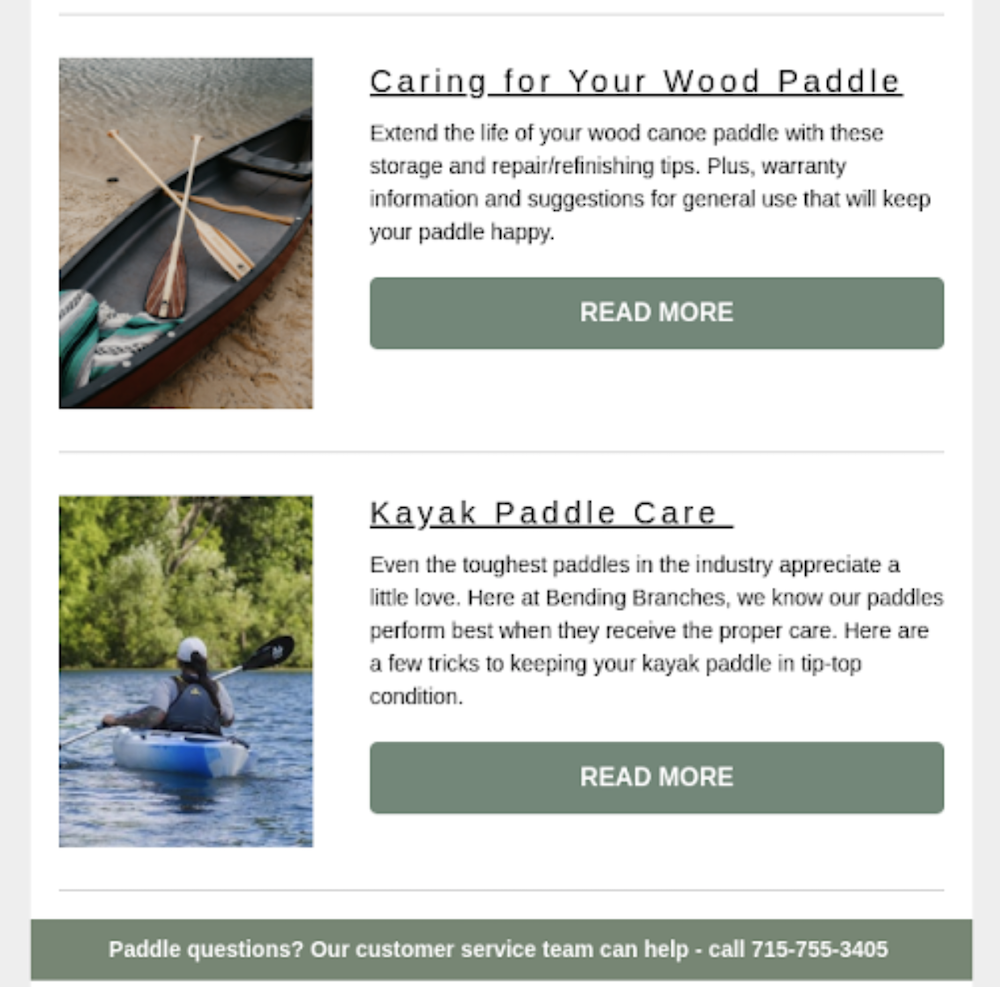 Video is a must-have assist for your email marketing strategy
If you're already investing in video marketing elsewhere, integrating video with email is a no-brainer strategy for improving engagement on owned channels. YouTube, TikTok, and Instagram can change their algorithm any time, but your email list is all yours—and so are the videos you send to recipients.
Get the most out of your owned channels with Klaviyo, which comes with rich A/B testing features to make video optimization within email as easy as possible.
Video in email marketing FAQs
Can email clients support embedded videos in emails?
While some email providers support embedded video content, as many as 80% of email providers don't because embedded content is seen as a security threat and can impact email deliverability rates.
How effective is video media in email marketing?
With the rise of video-based social media platforms like TikTok and Instagram, video is becoming more influential as a medium. By including video assets in email design, businesses can increase engagement, conversions, and improve brand awareness.
Is it possible to track the engagement of embedded videos in emails?
You can track how your audience engages with video assets and other design elements in your emails with Klaviyo. By using email performance data, you can optimize your approach to determine the best way to enhance your email content with video assets.
Learn how Klaviyo's email automation platform can power your digital marketing strategy.
Try now
Tiffany Regaudie
Tiffany is a writer and content consultant who specializes in marketing, health, and the attention economy. Before devoting herself to freelance writing full-time, she led content teams at various startups and nonprofits in Toronto, Canada.