Gmail Announces More Interactivity and Dynamic Content in Emails
Last week Google announced that it will be adding support for more interactive and dynamic emails to Gmail. The Gmail team will do this by adding support for many of the elements from the Accelerated Mobile Pages (AMP) project. The announcement, which came at the AMP Conference 2018 in Amsterdam, is a potentially big step forward in how emails are designed and what experiences are possible. You can watch the announcement here.
What does AMP support in Gmail mean for email marketers?
Starting later this year, Gmail will accept a new mime-type, text-x-amphtml, in emails. If you're not familiar with email mime-types, chances are you're already using them. Mime-types allow sending two versions of an email — most commonly a plain text version and an HTML version — so an email client can allow users to read emails in the format they prefer. When Gmail rolls out support for AMP emails, they'll support a third mime-type which will be used if it's available. If an email doesn't have the AMP format, Gmail will fallback to another format.
All of this means marketers will soon have the option to send Gmail subscribers and customers more interactive emails. While Gmail is the only email client that's announced support for AMP, it's possible this will encourage other email services and clients to support for AMP or another format that supports interactive and dynamic content.
What will be possible with the new AMP features in email?
The Gmail announcement showed off a few examples of how AMP will enable a richer email experience. Pinterest emails allow users to browse pins and save items directly from an email.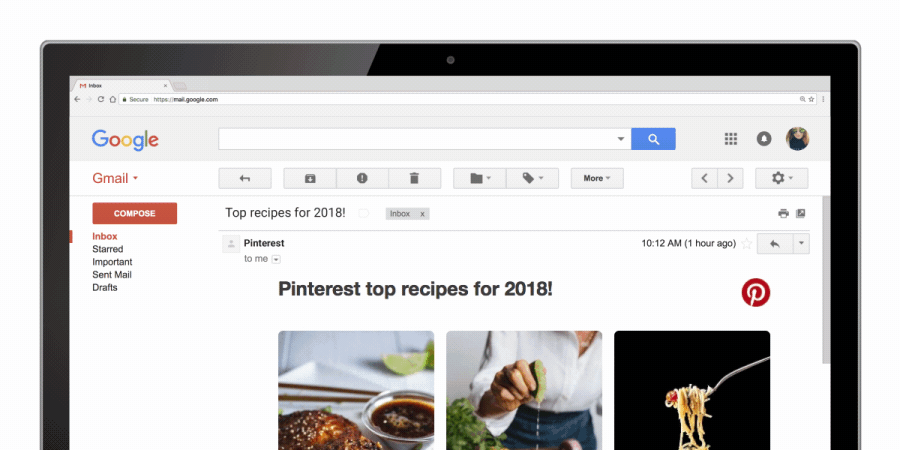 Booking.com uses AMP to build interactive carousels of travel deals, allow users to refresh content and update their email preferences inside of an email.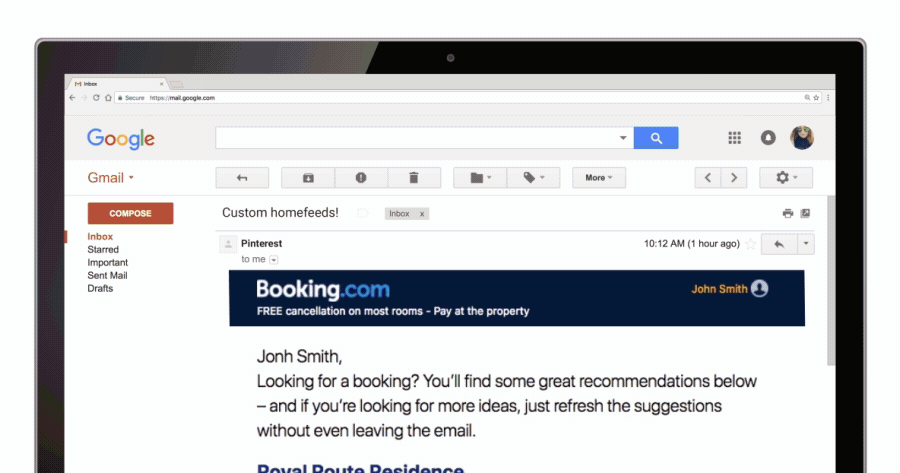 And Doodle allows users to see up to date information about available meeting times, choose a meeting time and submit their time without leaving Gmail.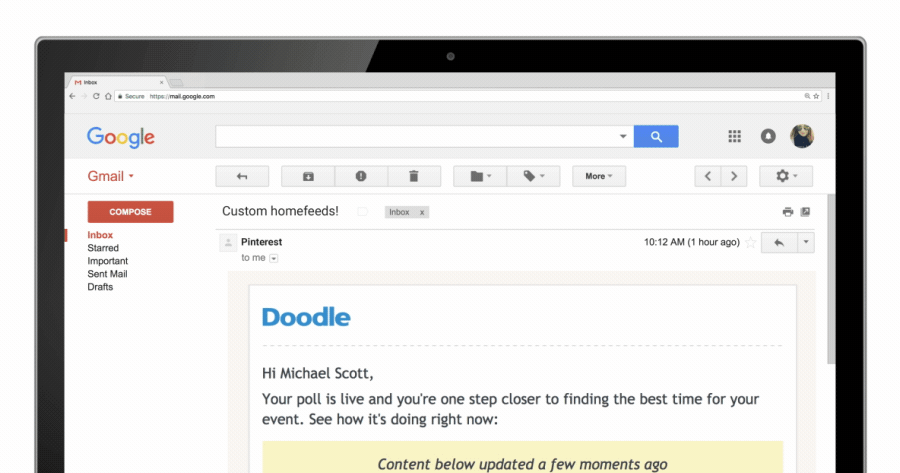 To create and power these experiences, Gmail will support the following AMP elements within emails. You can read more about the AMP specification in the AMP project documentation.
Dynamic Content
amp-form
amp-selector
amp-bind
amp-state
amp-list
amp-mustache
Presentation
amp-accordion
amp-carousel
amp-sidebar
amp-image-lightbox
amp-fit-text
amp-timeago
Media
What's next?
AMP emails aren't available in Gmail yet. If you're interested in getting early access, you can sign up through Gmail's developer preview program. The Gmail team is planning on releasing support to all Gmail inboxes later in 2018.
At Klaviyo, we're already thinking about and prototyping how you'll design and send AMP-powered emails. While more interactive and dynamic emails are an exciting step forward in the experience email can deliver, using those features may not make sense in all cases. What's most intriguing for marketers is the ability to experiment and give subscribers and customers the option to have a richer experience without leaving an email.
In a subsequent post we'll talk about the types of experiences and emails that will benefit the most from these new features.

.yuzo_related_post img{width:260px !important; height:250px !important;}
.yuzo_related_post .relatedthumb{line-height:16px;background: !important;color:!important;}
.yuzo_related_post .relatedthumb:hover{background:#ffffff !important; -webkit-transition: background 0.2s linear; -moz-transition: background 0.2s linear; -o-transition: background 0.2s linear; transition: background 0.2s linear;;color:!important;}
.yuzo_related_post .relatedthumb a{color:#323b43!important;}
.yuzo_related_post .relatedthumb a:hover{ color:}!important;}
.yuzo_related_post .relatedthumb:hover a{ color:!important;}
.yuzo_related_post .yuzo_text {color:!important;}
.yuzo_related_post .relatedthumb:hover .yuzo_text {color:!important;}
.yuzo_related_post .relatedthumb{ margin: 0px 0px 0px 0px; padding: 5px 5px 5px 5px; }
jQuery(document).ready(function( $ ){
//jQuery('.yuzo_related_post').equalizer({ overflow : 'relatedthumb' });
jQuery('.yuzo_related_post .yuzo_wraps').equalizer({ columns : '> div' });
})

Back to Blog Home