What's new in Klaviyo: October product updates
We're constantly making Klaviyo better, with new features, updates, and upgrades designed to help your business thrive. 
This October, we're highlighting features that will save you time, connect you with the info you're looking for, and give you even more flexibility, so you can focus on creating great experiences for your customers.
October product highlights:
Save time on flows with the new subject line assistant
Stand out in the inbox with data-driven subject line suggestions designed to drive more sales while saving you time — and valuable brain power. Smart suggestions will generate for you right within the flow builder, so you don't need to stop what you're doing to research best practices. 
Learn more about the subject line assistant for flows, or try it out today.  
Speed up your support experience with suggested responses for SMS 
We understand that timely responses to customer questions can make or break a great experience. We've taken a data-driven approach to helping you get back to them quickly with our new suggested responses feature. Powered by AI, suggested responses help you maintain a positive customer experience while scaling quickly. Want to see how it works? 
Read about AI-powered suggested responses for SMS. 
Introducing single sign-on for a fast and secure login experience with Klaviyo One
As an enterprise brand, maintaining security and scalability is something you can't afford to lose. Klaviyo One is here to support you with a new single sign-on login experience allowing for greater flexibility combined with faster login times. As your business grows, easily add more users and manage access at scale, without sacrificing security. 
Coming soon! Stay tuned for updates on when single sign-on for Klaviyo One customers will be available.
A/B test campaigns to learn what gets customers to convert
You might already be using Klaviyo's A/B testing features to see what works when it comes to getting customers to open your emails, or click through to your website. But opens and click rates don't tell the whole story. Now, you can use A/B testing to see what messaging strategies actually drive the most sales. We've enhanced our A/B testing for campaigns to allow you to select conversion as the winning variation metric. 
See how A/B testing for conversion in campaigns works, or start testing today.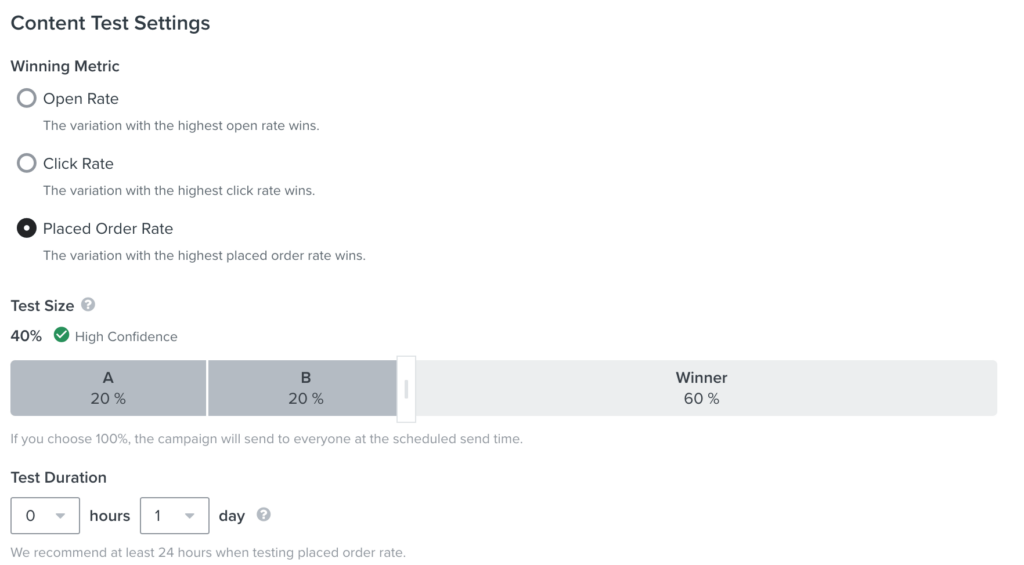 Answer key business questions in a flash with the new and improved overview dashboard
We know creating the perfect messaging strategy can be tough. Seeing and sharing the results shouldn't be. Our enhancements to the overview dashboard make it clear in just a glance which channels are driving the most revenue, how your deliverability is doing, and much more. Plus, you can now export your dashboard as a PDF for easy sharing across your business. 
Check out the upgraded dashboard right in your account, and get the full scoop on all they can do for your marketing efforts here. 
Make your messaging even more personalized with our new Heap integration
Klaviyo customers using Heap can now unlock the power of Heap's behavioral data to make their targeting even more precise. With the new Heap integration, send your customers the marketing messages that will resonate the most. The best part? There's no engineering required. Connect Heap and Klaviyo in just a few simple steps.
Learn more about what Heap's data can do for your Klaviyo campaigns.
New Klaviyo APIs are Live
We're on the way to turning Klaviyo into an API-first platform to empower our developer community. You may have heard about enhancements to our APIs during our September Klaviyo Product Event. We released new endpoints, updated existing ones, and added improved functionality to easily tailor Klaviyo to your needs and get the most value from your data. 
Learn more about our new APIs here. Visit developers.klaviyo.com to get started.
Optimize your Back in Stock flow with MMS
We all love being notified when a product we're interested in is back in stock. Take this high-intent messaging to the next level through dynamic MMS. Our latest improvement to the Back in Stock flow allows you to include dynamic images of the specific products customers are interested in through MMS messaging, giving you greater control over their experience.
Learn more about MMS for back in stock and add it to your Back in Stock flow.
Product updates designed with you in mind
Our feature improvements this October focused on saving you time, helping you answer important business questions, and giving you greater flexibility to shape the customer experience. Be on the lookout for more feature announcements next month.